Путин задает тренд общения с молодежью для всех топ-чиновников. В формате открытого урока, который он провел в Калининграде, должны теперь проходить регулярные дискуссии в российских школах. Об этом сказал газете ВЗГЛЯД сенатор Константин Долгов. В четверг президент встретился в неформальной обстановке с молодыми участниками открытого урока «Разговор о важном».
«Президент продолжает лично общаться с молодежью. С политической точки зрения тоже важно, что глава государства уделяет этому общению такое внимание, поскольку молодежь – это будущее нашей страны. В выступлениях Путина один из главных тезисов следующий –  молодежь способна построить современную, динамично развивающуюся Россию. При этом молодежь опирается на серьезные традиции, то есть обеспечивает преемственность», – считает зампред комитета Совета Федерации по экономической политике Константин Долгов. 
«На встречах, подобным тем, что прошла в Калининграде, президент не только выражает поддержку новому движению школьников, но и личным примером дает установку всем уровням власти – надо выстраивать коммуникацию с молодежью. Чиновники не просто на словах должны приветствовать принципы нового молодежного движения, но и сами регулярно контактировать с молодежью», – добавил сенатор.
Что касается конкретного формата «Разговора о важном», то именно так должны проходить встречи-дискуссии еженедельно во всех российских школах, убежден собеседник.
Ключевой в речи Путина стала также его оценка задачи государства быть коллективным наставником и направлять энергию молодежи, считает Долгов. «Принципы нового движения – это добровольность и развитие с опорой на лучшие педагогические практики. Приоритеты движения сформулирует сама молодежь, но при поддержке наставников и государства – такой сплав должен обеспечить успех», – заявил сенатор, добавив, что и сам готов стать наставником в одном из подобных молодежных проектов. 
«Президент также надеется, что новое движение не ограничится мегаполисами, что ее отделения откроются в малых городах, в небольших населенных пунктах – по всей стране. В России на сегодня уже налажена система самореализации детей и молодежи. Создано огромное пространство возможностей, которое предоставляют не только конкурс «Большая перемена», но и «Пушкинская карта», образовательный центр «Сириус» и другие проекты платформы «Россия – страна возможностей», – перечислил Долгов.
«Многие парни и девушки уже получили шанс для самореализации именно благодаря участию в этих конкурсах. Система самореализации продолжает формироваться. Новое движение, которое создается сейчас на наших глазах, – еще один важный элемент в этой системе», – подытожил сенатор.
В четверг президент Владимир Путин провел в Калининграде первое очное заседание наблюдательного совета нового общероссийского общественно-государственного движения детей и молодежи. Также с его участием состоялся открытый урок «Разговоры о важном» с участием школьниками из России, Донецкой и Луганской народных республик, освобожденных территорий Украины.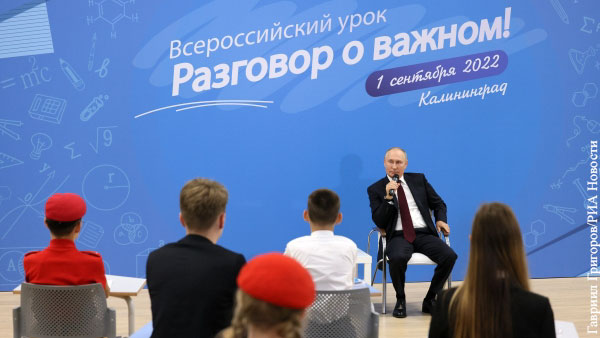 Взгляд
The post Взгляд: Сенатор: Путин задал формат «Разговора о важном» со школьниками first appeared on The Russia News.
The Russia News