Противник хотел посеять панику на территории полуострова. Но системы ПВО сработали слаженно и атаку удалось отразить, сказал газете ВЗГЛЯД крымский политолог Руслан Бальбек. Ранее в Джанкое на севере Крыма сработала система ПВО, были сбиты украинские беспилотники.
«Учитывая, что дроны намеревались атаковать исключительно гражданскую инфраструктуру, думаю, это была акция устрашения для крымчан. Вот, мол, смотрите и трепещите от наших возможностей», – сказал крымский политолог Руслан Бальбек.
«Приходится признать, что отчасти замысел ВСУ даже удался. Это и не удивительно, ведь налет совершали ночью, никто его не ожидал, люди испугались. Но мы живем довольно близко к военным действиям. Так что подобные атаки исключать нельзя», – говорит собеседник.
«Полагаю, что противник также хотел напасть на наши военные базы, но ПВО устранило дроны еще на подлете. Тот факт, что цели были сбиты в воздухе, говорит о том, что наши системы противовоздушной обороны работают и сопровождают противника до сектора досягаемости. И это внушает некоторое спокойствие», – заключил Бальбек.
Накануне глава Крыма Сергей Аксенов сообщил, что в понедельник вечером в Джанкое на севере Крыма сработала система противовоздушной обороны (ПВО). По его словам, ВСУ попытались атаковать территорию полуострова при помощи беспилотников, обломки повредили домовладение и магазин, один человек получил ранение.
Позднее советник главы Крыма Олег Крючков пояснил, что все сбитые над Джанкоем БПЛА целили в гражданские объекты. Один из дронов сбит над джанкойским техникумом и упал между учебным корпусом и общежитием. Как подчеркнул Крючков, никаких военных объектов рядом нет.
Советник также добавил, остальные беспилотники были сбиты над жилыми районами Джанкоя. Он обратил внимание на то, что помимо взрывчатки, в каждом была шрапнель. Крючков предположил, что этим нападением Киев хотел отомстить жителям полуострова за их выбор.
Во вторник глава Крыма Сергей Аксенов заявил, что ситуация на полуострове находится под контролем. Он также призвал граждан не поднимать панику и не обращать внимания на разрастающиеся украинские фейки об этой ситуации.
Ранее газета ВЗГЛЯД писала, что в случае полномасштабного контрнаступления ВСУ попытаются перерезать сухопутный коридор в Крым, а также выйти к полуострову.
Смотрите ещё больше видео на YouTube-канале ВЗГЛЯД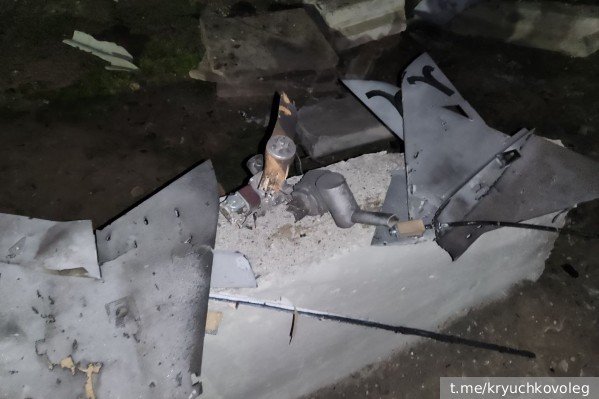 Взгляд
The post Взгляд: Крымский политолог Бальбек: Налетом дронов на Джанкой ВСУ пытались напугать крымчан first appeared on The Russia And Ukraine News – The News And Times.
The Russia And Ukraine News – The News And Times