Advertisements | Advertising at The News And Times - advertising-newsandtimes.com | WE CONNECT!
The World News and Times  – Saved Stories
Saved Stories – None
Lenin

Title:                      LeninAuthor:                 Victor Sebestyen
Sebestyen, Victor (2017). Lenin: The Man, The Dictator, And The Master of Terror. New York: Pantheon
LCCN:    2017008076
DK254.L4 S34 2017
Scope and content
Since the birth of Soviet Russia, Vladimir Lenin has been viewed as a controversial figure, revered and reviled for his rigid political ideals. He continues to fascinate as a man who made history, and created the first Communist state, a model that would later be imitated by nearly half the countries in the world. Drawing on new research, including the diaries, memoirs, and personal letters of both Lenin and his friends, Victor Sebestyens biography–the first in English in nearly two decades–is not only a political examination of one of the most important historical figures of the twentieth century, but a portrait of Lenin the man. Lenin was someone who loved nature, hunting, fishing and could identify hundreds of species of plants, a despotic ruler whose closest ties and friendships were with women. The long-suppressed story of the complex love triangle Lenin had with his wife, and his mistress and comrade, reveals a different character to the coldly one-dimensional figure of the legend. Sebestyen also reveals Lenin as a ruthless and single-minded despot and a product of his time and place: a violent, tyrannical and corrupt Russia. He seized power in a coup, promised a revolution, a socialist utopia for the people, offered simple solutions to complex issues and constantly lied; in fact, what he created was more a mirror image of the Romanov autocracy. He authorized the deaths of thousands of people, and created a system based on the idea that political terror against opponents was justified for the greater ideal. One of his old comrades who had once admired him said he desired the good… but created evil. And that would include his invention of Stalin, who would take Lenins system of the gulag and the secret police to new heights– Provided by publisher.
LC Subjects
Other Subjects
BIOGRAPHY & AUTOBIOGRAPHY / Historical.
HISTORY / Europe / Russia & the Former Soviet Union.
Date Posted:      December 14, 2017
Reviewed by Joseph C. Goulden[1]
Let not October pass by without proper notice of the 100th anniversary of one of the greater calamities of modern history: the seizure of control of Russia on Oct. 25, 1917, by what became the Communist Party.
As biographer Victor Sebestyen writes in his horrifying biography of Vladimir Lenin, under communism millions of people were killed, jailed or sent into the great maw of the gulag. The estimated body count, in Russia and the rest of the world, is in multi-digit territory.
Should we fret about communism now that the Soviet Union and its subsidiaries are defunct? Think again. Recent public opinions show that some 80 percent of Russians look with favor upon Joseph Stalin, Lenins successor as dictator. President Vladimir Putin recently spent millions restoring Lenins tomb in Moscowan artifice that Mr. Sebestyen labels as part shrine, part tourist trap. Mr. Putins goal of restoring Russias rightful grandeur is frequently stated.
The Hungarian-born Sebestyen, a foreign correspondent for several London dailies, including the Times, the Daily Mail and the Evening Standard, traces Lenins origins as a member of the comfortable minor nobility. Born Vladimir Ulyanov, he was radicalized when an older brother was hanged for working against Tsar Nicholas II.
Appalled, the young man took the revolutionary name of Lenin (one of more than 100 pseudonyms he used over the years) and launched his career as a revolutionist. Arrested, he defended himself with an assertion oft repeated over the years: Terror is the only form of defense, the only road individuals can take when their discontent becomes extreme.
Sentenced to Siberia, on release he fled to Europe, spending most of 17 years in Switzerland. There he published newspapers supporting revolutionaries in Russia.
In 1913 the Tsar permitted a semblance of elective government, headed by Alexander Kerensky. But the opposition became a noisy mélange of competing factions. With World War I casualties well over a million by 1917, and inflation out of control, the inept Nicholas II lost control of the then-capital of Petrogradessentially dethroned.
Along with other exiles, Lenin tried to meld the opposition into a unified party. After a hot debate over Marxist teachings, the faction that Lenin headed became known as the Bolsheviks, or majority; the remainder were the Mensheviks. The schism would haunt the Communist Party for decades.
As war continued, Lenin saw an opportunity. At risk of being branded as a traitor, he obtained German support to return to Russia. (Considerable money apparently went to him as well, although the exact amount is unknown.) A sealed train carried him through Germany and Finland to Petrograd, where he plunged into the revolution with an oratorical fervor, leading what he termed Soviets.
He was not universally popular. Debate foes termed him dominating, abrasive, combative and often downright vicious. He disdained cooperation with Kerensky. All power must go to the Soviets, he declared. But, as Mr. Sebestyen writes, he had developed a voice that would revolutionize workers.
With Kerenskys mandate due to expire on Oct. 27, Lenin saw the chance to install his own government. By a vote of 10 to 2, the governing board of the Bolsheviks anointed him as leader, and he emerged as the dominant figure.
Generalities were his only promise. As he told future rival Leon Trotsky, First, we must seize power. Then we decide what to do with it.
Revolutionary betrayals began immediately. Despite his calls for freedom for all, he detested peasants as a class. Hence, vows of land reform, under which farmers would gain possession of their own land, became collective agriculture.
When farmers in the grain-rich Ukraine did not deliver the desired amounts of foodstuffs, Lenin ordered their farms seized. Thousands of families were displaced; many were killed. The resultant famine brought death to uncounted millions of persons.
Lenin detested the working class, deriding them for their trade union consciousness. What was needed, he declared, was a "tribune of the people." So, a legislative assembly was convened. It lasted only a few hours until Lenin lost a key supporter and let it collapse.
Even more deadly, he pushed the theory that dissent was equivalent to treason. As Trotsky astutely observed, When Lenin talks about the 'dictatorship of the proletariat he means the dictatorship over the proletariat.
A free press? Censorship was imposed the second day of Lenin's rule to stop the torrent of filth and slander against the new order.
Such was arguably the most evil legacy of communisma rule that gave Lenin and subsequent dictators the authority to murder dissidents at will. As he put it, "How can you make a revolution without firing squads?"
Lenin did not anoint a successor, although his initial choice, later withdrawn, was Stalin. Nonetheless, as Victor Sebestyen writes, Lenin created the monster, and it was his greatest crime that he was now leaving Stalin with good prospects of becoming the Soviet dictator.
[1] Goulden, Joseph C. in The Intelligencer: Journal of U.S. Intelligence Studies (23, 2 Fall 2017, pp. ). Joseph C. Goulden is a long-time review of espionage and spy books for Intelligencer, for the Washington Times,for law journals and other publications. Some of these reviews appeared in prior editions of the Washington Times or the Washington Lawyer (DC Bar Association). Joe Gouldons most recent book is Goulden, Joseph C. (2012). The Dictionary of Espionage: Spyspeak into English. Mineola, NY: Dover Publications. His 1982 book, Korea: The Untold Story of the War, was published in a Chinese-language edition in 2014 by Beijing Xiron Books. He is author of 18 nonfiction books.

Star Wars, drone spies threaten US defenses

A HEMP strike would bring about a doomsday scenario and an act of war that kills no one directly but plunges everyone into the first stages of a technological dark age.
US soldiers involved in 2 car accidents in Germany

Two separate accidents involving U.S. soldiers in Germany occurred within a few hours of each other on Wednesday and Thursday, resulting in serious injuries for one soldier.
Perez Refuses to Give Straight Yes When Asked if Hes Fully Satisfied With Pelosi, Schumer Leadership

Democratic National Committee chair Tom Perez refused to say Thursday if he  was fully satisfied with Democratic leaders Rep. Nancy Pelosi (D., Calif.) and Sen. Chuck Schumer (D., N.Y.).When asked by Fox News' Bill Hemmer about the calls for new leadership by some Democratic lawmakers, Perez wouldn't give a straight answer.
"Were making real progress, look at the 2017 elections here, Bill. Democrats, not only in Alabama, but in Virginia, New Jersey all sorts of other races," Perez said.
"Were leading with our values, weve learned from our mistakes," he added.
"Is that a yes?" Hemmer interjected
"Without Nancy Pelosi, we wouldn't have health care," Perez stated.
Hemmer continued to pressure Perez for a straight answer.
"So you are satisfied with her leadership,? I take it thats a yes?" Hemmer persisted.
"Well you know what? We're leading into the 2018 election cycle," Perez said.
"So its a maybe?" Hemmer commented.
"I think we are going to win the Senate and the House. It's an uphill battle, but I think with their leadership we can do it," Perez said.
"I cant chalk up that answer to a yes," Hemmer concluded.
Pelosi, who has served in the House since 1987, has long held influence among House Democrats. She served as Speaker of the House from 2007-11 and has served as House Minority Leader since that time.
Over the past year, a number of Democratic lawmakers have called for new blood.
Massachusetts Rep. Seth Moulton has been an outspoken critic of Pelosi, and called for new leadershipon multiple occasions.
Linda Sanchez (D., Calif.) said in October she believed it was time to "pass the torch to a new generation."
Rep. Kathleen Rice (D., N.Y.) also wants a "leadership change," telling CNN "It's time for Nancy Pelosi to go, and the entire leadership team."It's time for Nancy Pelosi to go, and the entire leadership team."
Pelosi defend herself against criticism in October while she talked to ABCs George Stephanopoulos about her strengths as a leader.
"I think we do have a great array of talent, and I have promoted it all along the way," she said, naming Rep. Adam Schiff (D., Calif.) as an example.
"I think Im a great legislator, I know the budget," she said. "Self-promotion is a terrible thing but clearly somebody has to do it."
The post Perez Refuses to Give Straight Yes When Asked if Hes Fully Satisfied With Pelosi, Schumer Leadership appeared first on Washington Free Beacon.

"Hillary Is Corrupt and Trump Is Crazy: At the FBI, Anger at Being Scapegoated – Vanity Fair
White House departures: Who's been fired and who resigned in the Trump administration – USA TODAY
Eric Trump Joins Attack On Kirsten Gillibrand, Says She Asked For Money 'Every 3 Days'

His father implied in a tweet the senator was willing to trade sex for campaign contributions.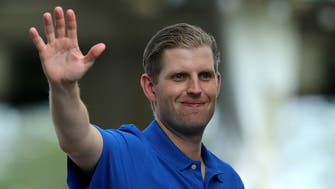 Trump can claim 'fairly serious achievements' in first year, Putin says – CNN
Putin Trump – Google News: Trump and Pence were warned in January that CIA had proof Putin directed election hacks: report – Raw Story
 Putin Trump – Google News
Putin: Trump can claim 'fairly serious achievements' in first year – EverythingLubbock.com
GOP senator: 'Trump's problems were vetted during the campaign' – The Hill
Ex-spy re-thinks attacks on Trump – Indiana Gazette

Indiana Gazette

Ex-spy re-thinks attacks on Trump

Indiana Gazette

Until 

Trump

. In August 2016, the retired-but-still-active-in-intelligence-matters Morell decided to abandon decades of nonpartisanship and come out in support of Hillary Clinton. In a New York Times op-ed, he praised Clinton's experience and called 

…
Fans of Trump's friendliest news network are turning on him – Washington Post
2020: GOP wants Trump to run again, crushes Kasich in matchup – Washington Examiner
NEW REPORTS: Working Class and Elite Democrats Were Divided on 2016 Priorities and 13 Percent of Partisans … – Business Wire (press release)
Donald Trump Told Of Putin's 'Specific' Orders For Russia To Hack Election, Ignored CIA Intel, New Report Says – The Inquisitr
Trump FCC Chairman: Destroying Net Neutrality Is Actually Fun and Cool – Vanity Fair
Robert Mueller's probe into Russian election-meddling divides America – The Economist
Jerusalem for Christians, Jews and Muslims is both a city and an idea | Giles Fraser: Loose canon

Its the object of overwhelming projection, a place of dreams and longing. There can be no political peace there until Jerusalem the golden is understoodTrying to organise parish pilgrimages to the Holy Land, I have often come across church people who refuse to travel to Israel, and to Jerusalem in particular, because they do not want the reality of the place to interfere with their idea of it. Jerusalem the golden / With milk and honey blest, they have sung in church, I know not, O I know not /What joys await us there, / What radiancy of glory, / What bliss beyond compare.No town can ever live up to that sort of billing. The reality is always going to be more prosaic. Which is why those who do make the pilgrimage can sometimes feel a little deflated by the sheer everydayness of the place the shops, the traffic, the traffic wardens, and all the paraphernalia of a bustling tourist industry.
Continue reading…
Russia's Military Is Leaner, But Meaner – Bloomberg
Late-night hosts on Roy Moore's defeat: 'The real loser here is Donald Trump'

Comics, including Stephen Colbert and Samantha Bee, covered the Republican loss in Alabama and how the president is coping with the newsLate-night hosts have discussed Roy Moores loss in the Alabama Senate election and how the result will affect Donald Trump.
Related: Late-night hosts to Roy Moore: 'Hello you and the horse you rode in on'

Tonight at 11/10c, America breathes a sigh of relief knowing that Alabama isnt sending Cowboy Roman Polanski to the Senate. pic.twitter.com/RK9e8w7dnH
Grassley demands answers on FBI officials' texts about Trump – Politico
The surest sign yet that Donald Trump is a goner

There are now a number of reasons to believe that Donald Trump is a goner. His approval rating is the lowest of any first-year U.S. President in the history of polling. His Russia scandal moves closer to taking down his presidency and his entire family by the day. His sexual assault scandal is coming back into focus at just the wrong time for him. He's so unpopular, he's now costing his own party congressional seats by endorsing its candidates. But the surest sign yet that Trump is a goner is coming from within his own innermost circle.Donald Trump and Roger Stone have been close personal friends for forty years. Stone was so deeply involved in Trump's campaign, he helped facilitate the conspiracy between the campaign and Russian-controlled WikiLeaks. By all accounts, Trump and Stone have spoken on the phone regularly since Trump took office. Trump trusts Stone enough to tell him how things are really going behind the scenes, and even if Trump is too delusional to connect the dots, Stone can surely get a read on what Trump is telling him. So what is Stone doing with that information?
According to Roger Stone, he's working on a new book about the demise of Donald Trump's presidency (link). Stone is so sure that Trump is a goner, and that there is nothing he can do to save his friend from being ousted from office, he's already begun writing a past-tense book on that ouster. Stone isn't placing this bet for no reason.
Keep in mind that Trump supporters and the lunatic far right are the primary audience for Roger Stone's books. He's not writing this book because he thinks they want to hear about Trump's demise. He's simply certain that his friend Trump is going down, and that it'll happen soon enough to punish a book he's already assembling. Stone is surely basing this on what he's heard from Trump himself. It's the surest sign yet that Trump is a goner.
The post The surest sign yet that Donald Trump is a goner appeared first on Palmer Report.
Mexico One Step Closer to Legalizing Military State – teleSUR English
Omarosa Manigault-Newman: 'I've seen things that made me uncomfortable'

The former Apprentice star denies reports she had been fired from her post as an assistant to Donald Trump, and says she has a profound story to shareFormer Apprentice star Omarosa Manigault-Newman said she had felt uncomfortable and upset in the White House as its most high-profile African American woman, as she denied reports she had been fired from her post as an assistant to Donald Trump.
She also hinted strongly that she had revealing and potentially damaging stories to share from her time in the Trump administration.
Related: Former Apprentice contestant Omarosa resigns from Trump administration
Continue reading…
Advertisements | Advertising at The News And Times - advertising-newsandtimes.com | WE CONNECT!