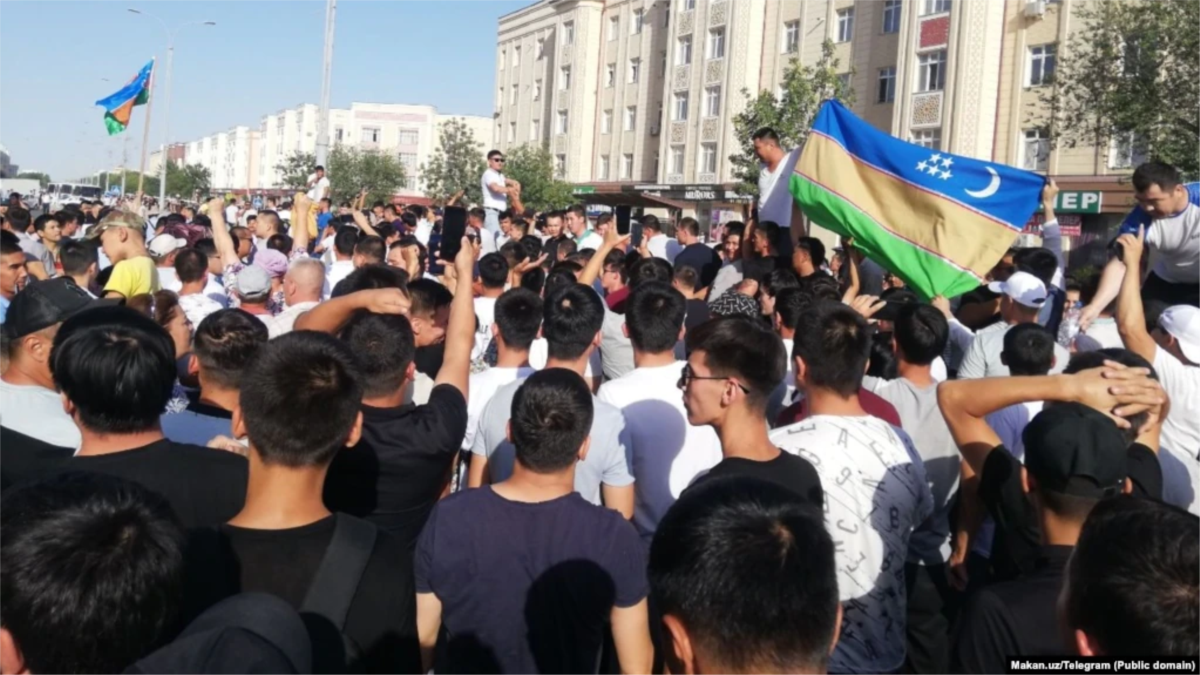 В Бухарском областном суде озвучили обвинения в отношении 22 фигурантов дела о протестах в столице Каракалпакстана Нукусе. Об этом сообщает узбекская служба Радио Свобода со ссылкой на пресс-секретаря Верховного суда Азиза Абидова.
Журналисту, блогеру и активисту Даулетмурату Тажимуратову, как пишет Gazeta.uz, вменили шесть статей Уголовного кодекса: это соучастие в умышленном тяжком телесном повреждении; заговор с целью захвата власти; хищение в крупном размере; организация массовых беспорядков; легализация доходов, полученных от преступной деятельности; изготовление, хранение, распространение или демонстрация материалов, содержащих угрозу общественной безопасности.
Журналистку Лолагул Каллыханову обвиняют заговоре с целью захвата власти, организации массовых беспорядков, соучастии в умышленном тяжком телесном повреждении, а также изготовлении и распространении материалов, содержащих угрозу общественной безопасности и общественному порядку.
Директор Нукусского колледжа олимпийского резерва Азамат Турданов, тренер детской и юношеской спортивной школы в Чимбайском районе Ахмет Сметуллаев и директор "Кораузак Сохиб" Даулетмурат Жиемуратов обвиняются в соучастии в умышленном тяжком телесном повреждении, заговоре с целью захвата власти и организации массовых беспорядков.
Блогеру Бахтияру Кадирбергенову вменяют организацию массовых беспорядков и хулиганство.
Байрам Сейтниязов, Аллабай Токимбетов, предприниматель Кахарман Сейтимов, блогер Азамат Нуратдинов, руководитель фермерского хозяйства "Келешек учун" Саидабулла Медетов, пенсионер Нурлан Найыпов, начальник отдела по уголовному розыску МВД Каракалпакстана Пулат Шамшетов, Саламат Калилаев, заведующий складом "Сада-Марс" Полат Нурниязов, предприниматель Саиыпназар Калимов, Нурлан Султамуратов, охранник предприятия "Устюрт геофизика" Арыслан Темирханов, специалист страховой компании Амирбек Адилбеков обвиняются по разным пунктам статьи об организации массовых беспорядков.
Преподавателю Каракалпакского государственного университета Разбеку Бекмуратову вменяют соучастие в умышленном тяжком телесном повреждении, организацию массовых беспорядков и незаконное завладение огнестрельным оружием, боевыми припасами или взрывчатыми веществами.
Султанбека Каипова обвиняют в организации массовых беспорядков и соучастии в умышленном тяжком телесном повреждении. Бердаху Генжебаеву вменили разбой и завладение, уничтожение или сокрытие документов, штампов, печатей, бланков.
20 подсудимых находились под стражей, один человек − под домашним арестом, еще один был отпущен под общественное поручительство.
Протесты в столице Каракалпакстана Нукусе начались 1 июля из-за проекта поправок к Конституции, среди которых было предложение исключить из Основного закона положения о суверенитете Каракалпакстана и праве его народа на отделение на основании результатов всеобщего референдума. Сообщалось, что жертвами беспорядков стали не менее 18 человек, были задержаны 516 человек. 4 июля парламент Узбекистана принял решение сохранить статус суверенитета Каракалпакстана в проекте поправок к Конституции страны.
Каракалпакстан – крупнейший по площади регион Узбекистана, 40% его территории. За 100 лет он пять раз переходил от одной республики СССР к другой, а в 1990-м объявил о государственном суверенитете. В 1991-1993 годы Каракалпакстан жил самостоятельно от Узбекистана, но это решение не приняли в Ташкенте:
Advertisements | Advertising at The News And Times - advertising-newsandtimes.com | WE CONNECT!