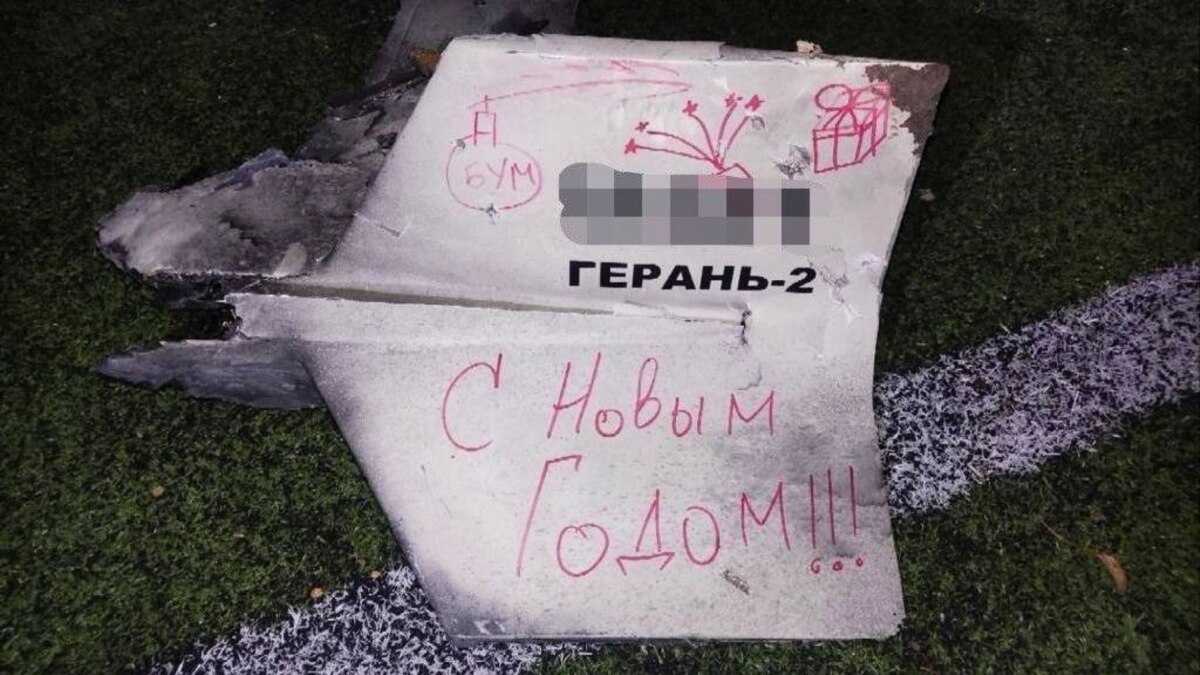 В ночь на 1 января российская армия запустила по Киеву и другим городам Украины иранские дроны-камикадзе "Шахед". По данным Воздушных сил Украины, в новогоднюю ночь над страной было уничтожено 45 беспилотников: 13 были сбиты до наступления нового года, а 32 – уже в 2023 году.
Глава Киевской областной администрации Алексей Кулеба написал в телеграме, что целью российских дронов были объекты энергетической инфраструктуры. "Предварительно, без пострадавших. Есть повреждение объекта инфраструктуры. Всю ночь на местах сбития работали экстренные службы", – пишет Кулеба.
Глава Национальной полиции Украины Андрей Небитов опубликовал фотографию сбитого дрона с надписью "С Новым Годом".
По предварительным данным, жертв и пострадавших в Киеве нет. Удар иранскими дронами был нанесен по Киеву всего через несколько часов после массированной ракетной атаки на украинскую столицу.
Мэр Киева Виталий Кличко сообщил, что 31 декабря была повреждена гражданская инфраструктура, пострадали 20 человек, один погиб. Госпитализированы 14 человек, в том числе журналист из Японии, который жил в гостинице в центре города. В результате попадания ракеты гостиница частично разрушена.
В то же время власти оккупированной части Донецкой области Украины сообщают об обстрелах со стороны украинской армии. Обстрелам из реактивной и ствольной артиллерии, по их информации, в новогоднюю ночь подверглись Донецк и Макеевка. Пользователи соцсетей на оккупированных территориях вывешивают видео со звуками и вспышками взрывов.
Advertisements | Advertising at The News And Times - advertising-newsandtimes.com | WE CONNECT!