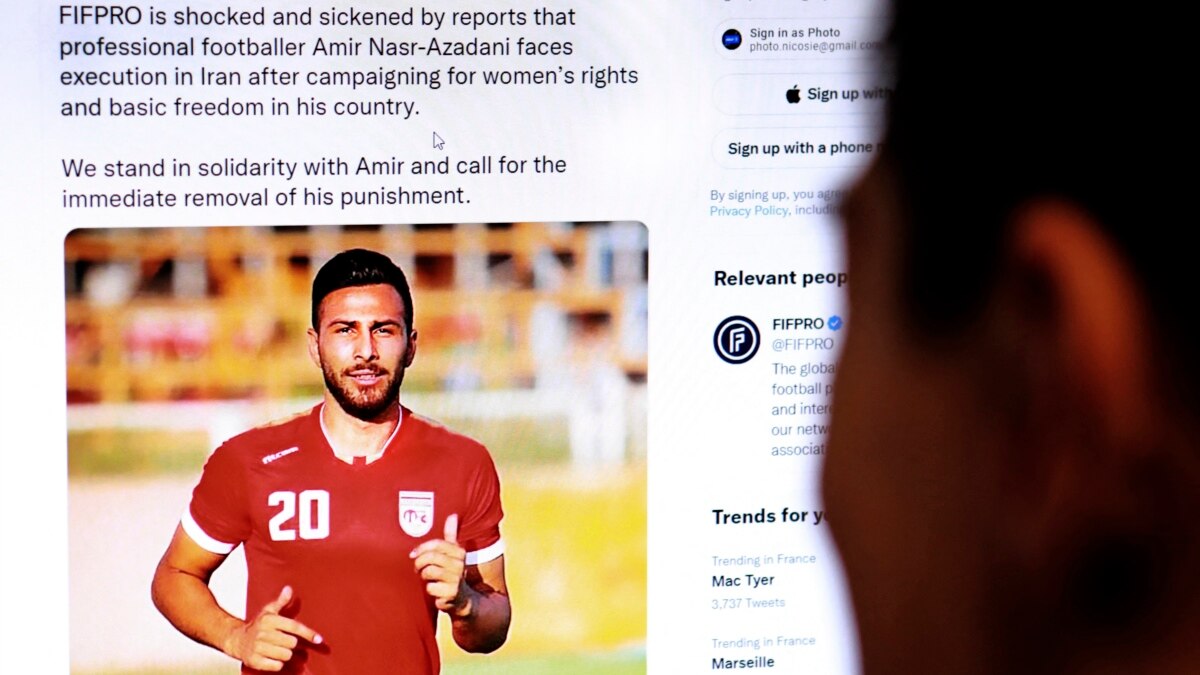 Власти Ирана приговорили футболиста Амира Реза Наср Азадани к 26 годам тюрьмы за участие в антиправительственных протестах, которые начались в середине сентября прошлого года после смерти 22-летней Махсы Амини, передает агентство EFE.
Азадани обвинили в соучастии в убийстве трех полицейских, а также в участии в сговоре с целью нарушения общественной безопасности и членстве в незаконных группировках.
По двум выдвинутым обвинениям суд дал футболисту 26 лет лишения свободы, однако, поскольку считается, что отбывать сроки он будет одновременно, футболист проведет в тюрьме только 16 лет – максимальный срок за одно из вменяемых ему преступлений.
В середине декабря издание IranWire сообщило, что власти Ирана включили Азадани в список осужденных на смертную казнь. В связи с этим Международная федерация ассоциаций профессиональных футболистов заявила протест иранским властям, призвав их отменить это наказание для спортсмена.
12 декабря 2022 года в Иране привели в исполнение второй смертный приговор в отношении участника антиправительственных протестов – 23-летний Маджид Реза Рахнавард был публично повешен в городе Мешхед. Его обвинили в "ведении войны против Бога" после убийства двух членов добровольческого отряда "Басидж", который принимал участие в подавлении протестов.
Первый смертный приговор в отношении участника антиправительственных протестов Мохсена Шекари власти Ирана вынесли в середине ноября прошлого года. Его признали виновным нападении с ножом на офицера безопасности (речь идет об участнике проправительственной полувоенной группировки Басидж) и перекрытии улиц в Тегеране. Приговоренного повесили.
Массовые протесты начались в Иране в середине сентября после смерти 22-летней Махсы Амини, арестованной полицией нравов за "неправильное" ношение хиджаба. Участники акций протеста обвиняют в ее убийстве полицию.
Смертная казнь также грозит двум журналисткам, Нилуфар Хамеди и Элаэ Мохаммади, – они первыми написали о гибели Амини. Власти Ирана обвинили их в государственной измене и работе на спецслужбы США.
Власти Ирана пытаются не допустить попадания в мировую прессу любой информации о происходящем в стране. С начала протестов были арестованы более 40 журналистов, те, кто остается на свободе, жалуются на слежку и прослушивание их телефонов.
В Иране за два месяца протестов погибли более 300 человек, почти 15 тысяч задержаны. Многим грозит смертная казнь, как демонстранту, которого обвинили в попытке начать войну с богом из-за горящего мусорного бака. Акции жестко подавляются, полиция применяет боевое оружие, но люди выходят на улицы:
Advertisements | Advertising at The News And Times - advertising-newsandtimes.com | WE CONNECT!