U.S. Secretary of Defense Lloyd Austin (right) is welcomed by U.S. Ambassador to Ukraine Bridget Brink as he arrives in Kyiv by train on November 20.
Defense Secretary Lloyd Austin told President Volodymyr Zelenskiy on November 20 that the United States was in "for the long haul" in its support for Kyiv as Ukraine continues to battle to repel Russian troops that began a full-scale invasion more than 20 months ago.
Austin arrived earlier in the day in Kyiv on an unannounced visit in a show of support for Ukraine amid concerns of a "war fatigue" among Ukraine's Western allies, especially in the United States — Ukraine's main provider of military and financial aid.
"The message that I bring you today, Mr. President, is that the United States of America is with you, we will remain with you for the long haul," Austin told Zelenskiy after the meeting.
"I was honored to meet with President Zelenskiy in Kyiv today to reaffirm the United States' steadfast support for Ukraine. We, along with our allies and partners, will continue to support Ukraine's urgent battlefield needs and long-term defense requirements, Austin said in a separate message on X, formerly known as Twitter.
Zelenskiy highlighted the visit as "a very important signal for Ukraine" and said, "we count on your support."
The Ukrainian president thanked Congress and the American people for their support.
The visit is Austin's second to Ukraine. He arrived in Kyiv by train from Poland and was also due to meet with Defense Minister Rustem Umerov and Chief of Staff General Valeriy Zaluzhniy.
Washington has given tens of billions of dollars in military and other aid to Ukraine since the start of Russia's unprovoked invasion in February last year.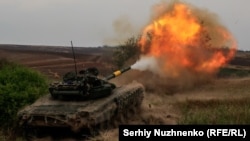 RFE/RL's Live Briefing gives you all of the latest developments on Russia's full-scale invasion, Kyiv's counteroffensive, Western military aid, global reaction, and the plight of civilians. For all of RFE/RL's coverage of the war in Ukraine, click here.
The U.S. government has reiterated many times that it will stand with Kyiv for as long as it takes. However, there has been growing concern about Washington's continued assistance amid opposition from some hard-line Republicans in Congress.
Further financial assistance for Ukraine was left out of a temporary bill approved by Congress last week to avert a U.S. government shutdown.
The Pentagon said in a statement that Austin's visit was meant to "reinforce the staunch support of the United States for Ukraine's fight for freedom."
"The discussions will focus on further bolstering the strategic partnership between the United States and Ukraine, to include ensuring Ukraine's armed forces have the battlefield capabilities they need for both the winter and to defend their country against future Russian threats, the Pentagon statement said.
"He will also underscore the continued U.S. commitment to providing Ukraine with the security assistance it needs to defend itself from Russian aggression, while also discussing a long-term vision for Ukraine's future force," it said.
Austin's visit to Kyiv comes ahead of a meeting later this week of the Ukraine Defense Contact Group, also known as the Ramstein format, which consists of some 50 countries that back Kyiv in its war against Russia.
Two civilians were killed early on November 20 when Russian troops shelled Kherson.
In Ukraine, Russian shelling of civilian-populated areas killed at least three people on November 20, regional officials said.
Serhiy Lysak, the governor of the Dnipropetrovsk region, said on Telegram that an 83-year-old woman was killed by Russian artillery strikes in Nikopol and a 53-year-old man was wounded.
Two civilians were killed when Russian troops shelled Kherson early on November 20, the head of the southern Ukrainian city's military administration, Roman Mrochko, reported.
Regional Governor Oleksandr Prokudin said on Telegram that two drivers were killed when Russian troops fired at the parking lot of a private transport company in Kherson.
Prokudin earlier on November 20 said that overnight shelling of residential areas of the region wounded six people, including one child.
With reporting by AFP