A drive by the hard-right coalition government of Prime Minister Benjamin Netanyahu to enact sweeping changes to Israel's judiciary has sparked domestic uproar and alarm among the country's Western allies.
What is the government's problem with the judiciary?
Critics of the Supreme Court, including many in the coalition government, say the bench is left-leaning and elitist and has become too interventionist in the political sphere, while often putting minority rights before national interests.
What does the coalition want?
The government has been pushing for changes that would limit the Supreme Court's powers to rule against the legislature and the executive, while giving coalition lawmakers more power in appointing judges.
The panel for selecting judges requires politicians and judges who sit on it to agree on appointments. The present proposal would change that, giving coalition governments decisive sway.
Netanyahu, though formally barred from involvement in the initiative because he is on trial for graft charges he denies, has said such changes aim to balance and diversify the bench. He has also accused the media of misrepresenting the plan and fanning the flames of protest in order to topple his government.
Why are so many Israelis protesting?
Israel's democratic "checks and balances" are relatively fragile. It has no constitution, only "basic laws" meant to safeguard its democratic foundations. In its one-chamber Knesset, the government controls a majority.
Critics say that the changes will weaken the courts and hand unbridled power to the government, endangering rights and liberties with catastrophic effects for the economy and relations with Western allies, who have already voiced concern.
A judiciary no longer seen as independent could also strip Israel of one of its main defenses in international legal cases.
Defense Minister Yoav Gallant on Saturday called on the government to stop the legislation because disputes over the measures threaten Israel's security.
What other factors are at play?
Critics fear Netanyahu wants to leverage the judicial push to freeze or void his trial. He has denied having any such plan.
The opposition also says his nationalist allies want to weaken the Supreme Court to establish more settlements on land the Palestinians seek for a state. Ultra-Orthodox Jewish parties in the coalition want to pass a law exempting their community from service in the conscript military, which they worry may be struck down by the court if its powers are not cut back.
What's next?
Netanyahu's governing coalition is aiming for final ratification of the changes to bench selection by April 2, when lawmakers go on spring recess. Other changes, some of which have been approved at the Knesset's plenum in the first of three readings required for ratification, have been deferred until parliament reconvenes April 30.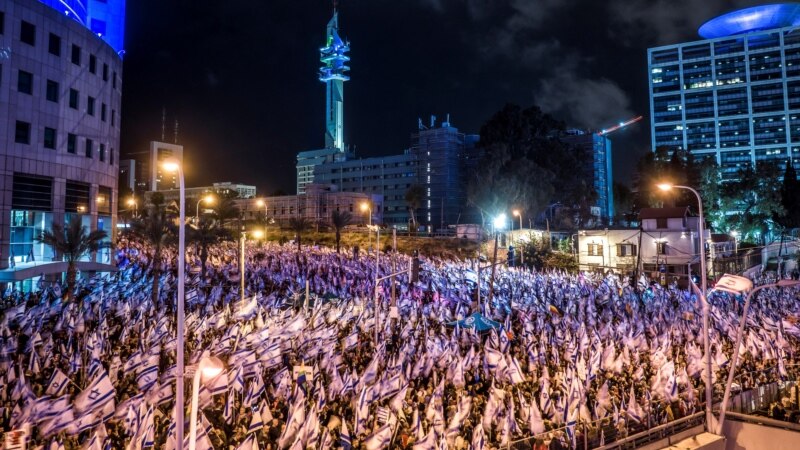 Voice of America