Advertisements | Advertising at The News And Times - advertising-newsandtimes.com | WE CONNECT!
Saved Stories – 1. Russia
How Russia Cheats – The New York Times
---
The Kremlin dismissed the details of both schemes as "
absurd
," but on Tuesday Russia was 
barred
 from the 2018 Winter Games for its state-backed cheating. Some individual Russian athletes may compete independently in neutral uniforms, but the Russian flag will not appear when the Games begin in Pyeongchang, South Korea.
The details of the sports scandal — deconstructed by Russian whistle-blowers who have provided rare insider insights — offer perhaps the purest case study of Russia's drive to dominate, its brazen methods and, in part, its motivation to influence the American presidency.
In a declassified intelligence 
report released early this year
, United States officials said Russia's attacks on the election had been, for Mr. Putin, partial payback for the doping scandal, which he repeatedly called an American-led effort to defame Russia. Last month, as new medals were stripped from Russian Olympians, Mr. Putin 
said
 the disqualifications were the United States' attempt to undermine his re-election.
In fact, sports regulators and investigators who conducted the multiple investigations into Russia's doping are headquartered in Canada, and the Olympic leadership in charge of disqualifying athletes is based in Switzerland. It was the former president of that staunchly neutral country, Samuel Schmid, who conducted the latest investigation for the Olympic committee, resulting in Tuesday's sanctions.
In scrutinizing Russia, sports and antidoping officials have said they acted on objective forensic and scientific evidence of Russia's fraud: documents, data, lab analyses and 
glass bottles of urine
 with telltale signs of tampering. Just as allies of the special counsel Robert Mueller 
have done
 this year in the context of the election inquiry, the officials have defended their impartiality and interest in plain facts.
Three key whistle-blowers helped provide those facts: Grigory Rodchenkov, Russia's former longtime chief antidoping chemist, as well as 
Yuliya and Vitaly Stepanov
,
 a former Russian runner and a former employee of the nation's antidoping agency. All now live in the United States, in undisclosed locations from which they have spoken openly about years of coordinated cheating. The Justice Department, too, has 
taken interest
 in their evidence.
Dr. Rodchenkov, whose personal 
diaries
 cataloged each day of cheating in Sochi, came to the United States only after Vitaly Mutko — Russia's deputy prime minister and former sports minister — asked him to resign in light of growing global suspicions about the extent of the nation's cheating, which the chemist had helped mastermind.
"Today we also have a meeting, how to come from defensive to offensive," Dr. Rodchenkov wrote to me in an email on Nov. 10, 2015, having initially denied wrongdoing in our early exchanges. At that meeting, Mr. Mutko effectively dismissed him and set off a dramatic chain of events: "Freedom!" he wrote in another email that night.
Dr. Rodchenkov's tell-all account, 
reported
 in The Times in May 2016 and detailed in the documentary "Icarus," culminated in Russia's Olympic ban this week. It was instrumental in motivating some Russian officials to temper their rigid denials and 
acknowledge
 that an "institutional conspiracy" had existed, though they maintained it had not been state sponsored.
Still, before this week's final sanctions were announced, global athletes, antidoping advocates and some sponsors had expressed concern about a growing crisis in international sports, pointing to the 
long delay
 by both regulators and Olympic officials in responding to evidence of widespread cheating that went even beyond Sochi.
As those critics 
wondered
 when or if sports officials would penalize Russia for its systematic transgressions by 
rescinding Olympic medals
 and condemning the state-supported schemes, they questioned not just fundamental frailties in drug-testing controls but also the 
independence
 of antidoping authorities.
One year later, similar basic questions about separation of power have taken on renewed relevance in American politics as a result of Russia's breaches. Those questions have followed Mr. Trump's 
repeated attacks
 on the independence of the Justice Department, in defiance of the post-Watergate norms intended to insulate law enforcement from partisan and personal agendas.
In the same way that Mr. Trump has 
avoided
 acknowledging evidence of Russia's interference in the election, Thomas Bach, president of the International Olympic Committee, took more than a year to accept the 
extensive evidence
 of Russia's interference in the Sochi Olympic lab operations.
Other sports officials, such as the president of skiing's governing body, initially told me that the evidence on Russia was conspiratorial or "
too Hollywood
," just as some Republican lawmakers have doubted the legitimacy of Mr. Mueller's mandate.
In drawing out his decision-making until this week, Mr. Bach called for due process and stressed the importance of giving Russia a fair chance to defend itself.
One defense came just after the early 
penalties
 for Russian athletes at the 2016 Olympics: a set of cyberattacks. A group known as Fancy Bear — which American intelligence officials tied to Russia's main military intelligence unit, the G.R.U. — 
published
 the hacked private medical records of top American athletes, as well as the private emails of antidoping officials who had lobbied for a ban on Russia.
The hackers — the same group that stole emails from the Democratic National Committee's servers and released them ahead of the 2016 election — called the athlete records proof of illegal drug use by stars such as Simone Biles and Serena Williams. All athletes had received necessary clearances to use the substances in question, and none of the information constituted a violation.
In a fiery interview in Moscow last year, Mr. Mutko, the former sports minister and current deputy prime minister, echoed Mr. Putin, arguing that Russia had been disadvantaged globally. In sports as in all things, he said, the decks were stacked against the nation.
This week, he was barred from attending any future Olympics, though he remains at the helm of Russia's 2018 soccer World Cup.
"Somebody has to take the responsibility," he said in July 2016, three months before Mr. Putin promoted him. "There must be a master at home."
Correction: December 8, 2017An earlier version of the photo caption with this article misstated the location of Sochi. It is in Russia, not Japan.
Russia's ongoing quest for empire – The Ukrainian Weekly (press release)

The Ukrainian Weekly (press release)

Russia's ongoing quest for empire

The Ukrainian Weekly (press release)

The 

Russian

 elite traditionally believe that 

Russia

 and its 

East

 Slavic neighbors are and always will be part of a joint historical and cultural space, and ultimately the same nation. The ongoing Ukraine-

Russia

 war can be traced to this theme that 

…
The Daily Vertical: Let The Power Games Begin
---
The Evolving Stalemate Between Russia and the West – STRATFOR
Russia-NATO Cold War Leads Finland to Build Military 100 Years After Independence – Newsweek
Tillerson: US, Russia could normalize ties but for Ukraine – KIRO Seattle
Top Diplomat Says Ukraine Sticking Point in US-Russia Ties – U.S. News & World Report
US to maintain Russia sanctions until it withdraws from Ukraine, Tillerson says – CNN International
Recalling the Russian Revolution – Tampa Bay Newspapers
Recalling the Russian Revolution

Tampa Bay Newspapers

By 1922 the Union of Soviet Socialist Republics, consisting of 

Russia

 and 14 other states, was formed. Years of political rivalries followed. Joseph Stalin came out on top. He secured his victory by starving millions of his fellow Soviet citizens. The 

…
Collusion

The investigation into suspected collusion between US President Donald Trump and the Russian government has claimed its first three victims: one (Paul Manafort) for completely unconnected money laundering charges, and two (George Papadopoulos and Michael Flynn) for lying to investigators about things which were not themselves criminal, and which are therefore crimes which would never have happened had there never been an investigation. To date, the evidence of direct collusion between Trump and the Russians is looking a little thin, to say the least. Now, into this maelstrom steps Guardian reporter Luke Harding with his book Collusion: Secret Meetings, Dirty Money, and How Russian Helped Donald Trump Win.
Collusion spends over 300 pages insinuating that Trump is a long-standing agent of the Russian secret services, and hinting, without ever providing any firm evidence, that Trump and his team acted on orders from the Kremlin to subvert American democracy. Ill be honest, and admit that I picked this book up expecting it to be a series of unsubstantiated conspiracy theories, and to be utterly unbalanced in its analysis, and in that sense Im not an unbiased reader. At the same time, I was interested to see if Harding had come up with anything that everybody else had not, and was willing to give him a chance. I neednt have bothered. For alas, my worst suspicions proved to be true, and then some.


The first thing to note about Collusion is that most of it is padding. That is to say, that it consists mainly of a lot of digressions in which Harding describes people and events not directly related to the main story of collusion. Whenever a new character is introduced, you tend to get pages of background information, along with descriptions of various places theyve been to, things theyve done in the past, and so on. At the start of the book, for instance, Harding introduces Christopher Steele, who prepared an infamous dossier purportedly based on secret sources within the Kremlin, which made all sort of extreme accusations against Trump. We learn about Steeles parents, his childhood, his education, his career, and so on. Harding recounts how he met Steele. We learn about how they tried one café, then another, who drank what, etc, etc. This pretty much sets the tone for the rest of the book. There's a lot of padding. This padding makes Collusion an easy read, and gives it colour, and the flavour of a spy novel. But none of it adds anything to our knowledge of Donald Trump and his relationship with Russia. Its just filler, designed to cover up the fact that, when it comes to the matter of collusion, Harding doesnt have a whole lot new to say and certainly doesnt have enough to fill up an entire book.
The second thing to note is that Hardings modes of argumentation and standards of evidence are not  – how can I be polite about this? what Im used to as an academic. Lets take the example of Trumps former convention manager, Paul Manafort, to whom Harding devotes an entire chapter, obviously on the basis that the Trump-Manafort connection somehow proves a Trump-Kremlin connection. The problem Harding has is that, despite pages of fluff about Manafort, he hasnt got any evidence that Manafort is a Kremlin agent. In fact, he quotes one source a former Ukrainian official, Oleg Voloshin as telling him that when Manafort worked as a political advisor to Ukrainian president Viktor Yanukovich:
Manafort was an advocate for US interests. So much so that the joke inside the Party of Regions [in Ukraine] was that he actually worked for the USA. He supported Ukraines association with NATO and with the EU. He warned Yanukovich not to lock up [former Prime Minister Iuliia] Tymoshenko. If it werent for Paul, Ukraine would have gone under Russia much earlier, Voloshin told me.
This is pretty funny behaviour for a Kremlin agent, and Harding has to admit that, Its unclear to what extent, if any, Manafort was involved in supplying intelligence to Russia. This doesnt fit with the conclusion that Harding obviously wants readers to draw that Manafort was a Kremlin agent, and so Trump must be too. So, he comes up with something else: some of Manaforts associates in Ukraine were rumoured to have links with Russian intelligence. Note the use of the word rumoured. Its not exactly convincing, but its good enough for Luke, who uses it to tell a story about one such associate, Konstantin Kilimnik. Harding recounts that he contacted Kilimnik by email to ask him about his relationship with Manafort. Kilimnik responds by telling him that the collusion accusations are  insane and gibberish, and signs off his email with a bit of self-mockery: Off to collect my paycheck at KGB. :))
And heres where it gets interesting. For Harding thinks theres something suspicious about Kilimniks answer. He writes:
The thing which gave me pause was Kilimniks use of smiley faces. True, Russians are big emoticon fans. But Id seen something similar before. In 2013 the Russian diplomat in charge of political influence operations in London was named Sergey Nalobin. Nalobin had close links with Russian intelligence. He was the son of a KGB general; his brother had worked for the FSB; Nalobin looked like a career foreign intelligence officer. Maybe even a deputy resident, the KGB term for station chief. On his Twitter feed Nalobin described himself thus:
A brutal agent of the Putin dictatorship : )
And thats it. Thats Hardings evidence. Just to make sure readers get the point, he follows the last line up with a double paragraph space. Stop and think what this means, he seems to be saying. Someone who looked like a career foreign intelligence officer uses smiley faces. Kilimnik uses smiley faces!!! Say no more.
This is the level at which Hardings logic works. Harding recounts a meeting of Trump and Russian Foreign Minister Sergei Lavrov in the White House, a meeting which was photographed by someone from the Russian news agency TASS. As Harding tells us:
The Times put the photo of Trump and Lavrov on its front page. At the bottom of the photo taken inside the White House was a credit. It said: Russian Foreign Ministry.
Yet another double paragraph break follows,  just to make sure that readers take in the implication of what this means.
Take another example. We learn (which in fact we knew already if wed been following this story) that Trumps short-lived National Security Advisor, and former head of the US Defense Intelligence Agency, Michael Flynn, attended a conference on the subject of intelligence at Cambridge University, where he met a Russian woman, Svetlana Lokhova. Harding admits that, There is no suggestion she is linked to Russian intelligence. Nevertheless, he feels it necessary to tell us that Flynn later corresponded with her by email. He writes:
In his emails, Flynn signed off in an unusual way for a US spy. He called himself General Misha.
Misha is the Russian equivalent of Michael.
Again, Harding then introduces a section break, leaving this ominous fact hanging in the air. Think of what it means, he is saying!
This is typical of how Harding argues. He puts in some suspicious sounding fact, or asks some question, and then just leaves it hanging. The implication is that the question doesnt need answering, that the most damaging and extreme answer is obviously true. Theres an awful lot of this technique in Collusion. Harding spends pages on a digression about Russian billionaire Dmitry Rybovlev before telling us that Rybovlevs private jet sometimes parks next to that of Donald Trump. Seems suspicious, huh? Except that Harding tells us that, The White House said that Trump and Rybovlev had never met. This appears to be true. But Harding isnt satisfied, and asks, Had he [Rybovlev] perhaps met someone else from Trumps entourage during his travels? Like, for example, Trumps personal lawyer Michael Cohen? Later, Harding tells us that Rybovlevs yacht was once at Dubrovnik at the same time as Ivanka Trumps yacht. Was this perhaps planned he asks.
Hardings method is to ask these questions, as if asking was itself proof of guilt. Trump borrowed money from Deutsche Bank. Deutsche Bank was bailed out at one point by the Russian bank VTB. Was there a connection? Harding asks. But Harding doesnt answer these questions. In fact, one of the interesting things about this book is that again and again the author has to confess that the facts dont really fit what hes trying to say. For instance, when discussing Trump and Deutsche Bank, and trying to make it sound as if Trump was in some way connected to the Kremlin because he was borrowing from the Germans, Harding writes, The sources insist that the answer was negative. No trail to Moscow was ever discovered, they told us.
This isnt a lone example. Harding spends quite a few pages discussing Carter Page, a businessman who appeared on RT and gave a talk at the Higher School of Economics in Moscow, and who at one point had a marginal role in the Trump election campaign. Its clear that he wants it all to sound really damaging. And yet, he writes that Pages attempts to meet Trump individually failed. So, it turns out that theres not much of a connection there after all. Likewise, when discussing Russian computer hackers, Harding writes: By the second decade of the twenty-first century the cyber world looked like the high seas of long ago. The hackers who sailed on it might be likened to privateers. Sometimes they acted for the state, sometimes against it. This rather undermines his claim that the Russian state was behind the hacking of the Democratic National Committee.
In another example, Harding discusses the sudden death of Oleg Erovinkin, who worked for the oil company Rosneft. He speculates that Erovinkin was Steeles source deep inside Rosneft, and was murdered because word of Steeles document had leaked out. The murder, he implies, is proof of the dossiers validity. Except that Harding admits that, there was nothing suspicious about Erovinkins sudden death and Steele was adamant that Erovinkin wasnt his source. Yet this doesnt stop Harding from writing that, in the wake of the dossier the Kremlin did appear to be wiping out some kind of American or Western espionage network. It certainly looked that way.
I could give other examples, but I cant make this review too long. The point is that Harding ignores his own evidence. He argues by innuendo, and on occasion he just lets his imagine run away with itself. Steeles dossier alleged that Trump had hired prostitutes while on a trip to Moscow. Vladimir Putins response was to crack a joke about Russian prostitutes being the best in the world. But to Harding it wasnt a joke. As he writes:
Putin may have been sending a second message, darkly visible beneath the choppy, translucent waters of the first. It said: weve got the tape, Donald!
I wish I could say that this book was a joke. If you were going to write a parody of the collusion story, this is perhaps what it would look like. Unfortunately, Harding is deadly serious and I suspect that a lot of uncritical readers will soak it all up, not stopping to reflect on the awful methodology. So, I end on a word of warning. By all means read this book. But dont do so in order to find out the truth about Donald Trump and Russia; do so in order to understand the methods currently being used to enflame Russian-Western relations. In that respect, Collusion is really quite revealing.

What's the Matter with Eastern Europe? – Common Dreams

Common Dreams

What's the Matter with Eastern Europe?

Common Dreams

They'd suffered the early consequences of the shock therapy economic reforms that would soon be introduced across much of

Eastern Europe

 and, after 1991, 

Russia

. Although the Polish economy had finally stabilized, unemployment had, by the end of 1990 

… and more »
Lavrov Says 'Key Issues' Regarding Caspian Legal Status Solved

Russian Foreign Minister Sergei Lavrov has said the five Caspian states have agreed on "all the outstanding key issues" regarding the legal status of the Caspian Sea.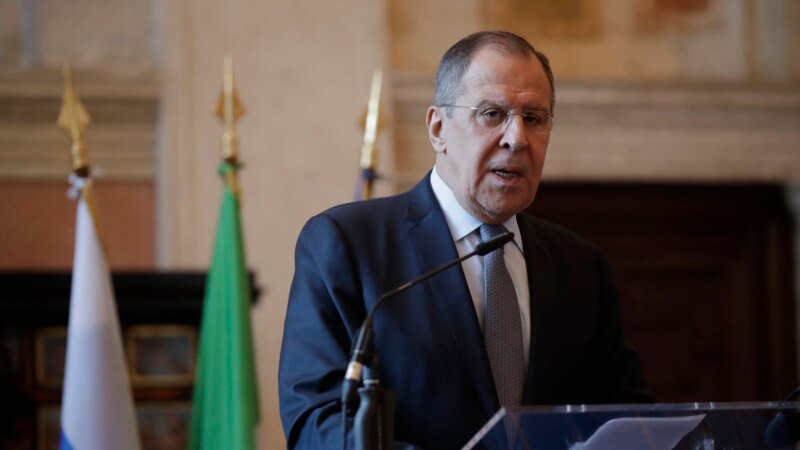 Is Vladimir Putin really the evil genius behind Donald Trump? – TheRecord.com
Is Vladimir Putin really the evil genius behind Donald Trump? – TheSpec.com
US Using Political Pressure to Draw Balkans Into NATO – Russian Foreign Ministry – Sputnik International
Russia's summit in Sochi mirrored the 1945 carve-up of Europe – The National
Growing gaps in US, European interests as Tillerson crosses the Atlantic – Arab News
Mueller removed FBI agent from Russia probe for anti-Trump texts: reports – Reuters
Budapest Summit: The Silk Road Comes to Europe – Sputnik International
Russia won't heed US request to break ties with North Korea, Lavrov says – ABC News
Seeking Russian Presidency, Socialite Hits the Campaign Trail

Ksenia Sobchak, a television journalist and opposition candidate, opened a campaign office and vowed to stir a national discussion about what is wrong with Russia.

Gay Soccer Fans Warned To Not Hold Hands In Russia At 2018 World Cup – HuffPost
Artificial Swarm Intelligence Says Vladimir Putin Will be TIME's Person of the Year – Futurism
Meet Mike Pompeo, your likely new and Trump-friendly secretary of state – Vox
Israel & the South Caucasus – Georgia Today

Georgia Today

Israel & the South Caucasus

Georgia Today

Moreover, the region is also a hotbed of ethnic fighting with three ongoing separatist conflicts in South Ossetia, Abkhazia and Nagorno-Karabakh further complicating political stability. However, the South Caucasus' strategic location, which lies 

… and more »
Advertisements | Advertising at The News And Times - advertising-newsandtimes.com | WE CONNECT!