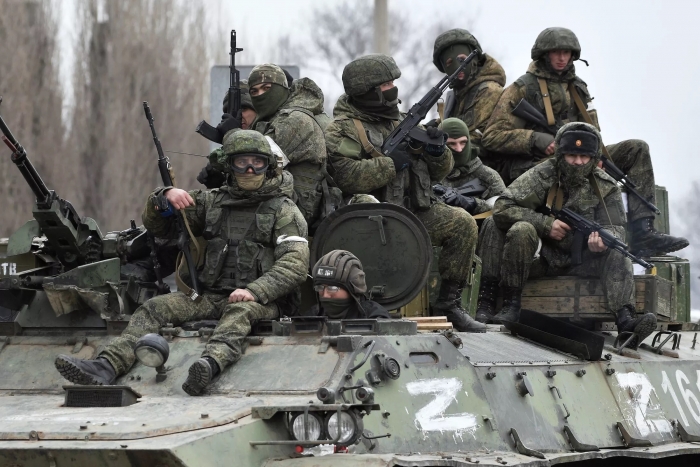 Солдатское недовольство взрывается!
Многие солдаты пьют слишком много алкоголя, чтобы выдержать такой холод. Многие из них засыпают и получают обморожения. Не хватает медикаментов, более 90% военнослужащих больны. Пишет издание FRIDAY DIGITAL.
Налицо дефицит не только снаряжения для холодной погоды, но и медикаментов. Французское информационное агентство AFP сообщило о разгроме российских военных со ссылкой на министра обороны США Уильяма Остина.
Санкции США и Европы, а также последние атаки украинских военных на склады оружия привели к острой нехватке боеприпасов», — сказал Остин агентству AFP. Поставки на передовую уже нарушены. По словам Остина, без поставок из Северной Кореи и Ирана запасы, как ожидается, закончатся в начале нового года. Есть вероятность, что по необходимости им, возможно, придется использовать старые артиллерийские снаряды, которым более 40 лет и которые лежат на складе.
Наемники Вагнера, частная военная компания, основанная г-ном Пригожиным, олигархом, пользующимся доверием президента Владимира Путина, также уничтожается. Они были известны своей жестокостью и были одним из немногих подразделений, которые оставались активными даже тогда, когда боевой дух русских был низким.
Но 11 декабря Гайдай, губернатор Луганской области на востоке Украины, объявил в социальных сетях, что «Вагнер» был успешно атакован в отеле, в котором находится его штаб-квартира. Ожидается, что половина раненых умрут из-за отсутствия медикаментов и лечебных учреждений. Это огромная потеря для российской армии».
Без оружия и боеприпасов «Вагнер» понес большие потери. По данным британского Минобороны, России практически невозможно вернуть территории, отбитые Украиной. И наоборот, есть вероятность, что Украина вернет себе весь регион. Что будет с загнанным в угол президентом Путиным?
Ицуро Накамура, почетный профессор Университета Цукуба и эксперт по России, видит два возможных сценария.
Во-первых, он предпримет отчаянные действия. Согласно данным США, Россия, у которой заканчиваются оружие и боеприпасы, скорее всего, начнет последнее наступление в конце января следующего года. Но количества и качества вооружений недостаточно, а обычных ударов с земли и воздуха будет недостаточно, чтобы нанести ущерб Украине.
Один из возможных вариантов — ядерный удар по столице Киеву. Это сценарий, при котором ядерное оружие используется как последнее средство, чтобы сжечь столицу и добиться прекращения огня. Президенту Путину в октябре этого года исполнилось 70 лет. В России, где средняя продолжительность жизни составляет 65 лет, он относится к категории пожилых людей. Неудивительно, если Владимир Путин, чувствуя нетерпение, решится на решительный шаг.
Второй сценарий касается жизни Путина.
Второй сценарий связан с жизнью Путина: убийство. Если Путин будет медлить с применением ядерного оружия, сторонники жесткой линии, считающие его слишком мягким, могут принять меры. Путин исторически проводил большую часть своих встреч в Интернете, опасаясь убийства или терроризма. Однако в последнее время он стал чаще проводить личные встречи и выступать с трибуны с речами. Похоже, он готовится к убийству», — сказал Накамура. В начале нового года президент Путин, скорее всего, встретит свою гибель.
Rate this article: 
Select ratingGive it 1/5Give it 2/5Give it 3/5Give it 4/5Give it 5/5
Advertisements | Advertising at The News And Times - advertising-newsandtimes.com | WE CONNECT!