The actress Ava Gardner, whose 100th birthday is celebrated Dec. 24, was more than just the alluring star of such films as Show Boat, The Barefoot Contessa and Mogambo. Born to a North Carolina Baptist family of impoverished sharecroppers, Gardner was also a Hollywood star who felt notably haimish with Jews.
Her second husband, after a misbegotten alliance in her teens with Mickey Rooney, was the Jewish bandleader Artie Shaw (born Arthur Jacob Arshawsky). Gardner later told a prospective biographer that Shaw, whom she wed in 1945, was "very conscious of being a Jew." Shaw told her about being "at a posh Hollywood dinner party when they started talking about Jews. It turned out that they were all antisemitic. He said he sat there in silence for a while — apparently nobody knew he was a Jew— then he joined in with their snide remarks about Jews. He said he'd never forgive himself for his cowardice."
This story awoke "protective instincts" in Gardner, who "really felt [Shaw's] pain." Feeling disrespected by others was familiar to Gardner, who had arrived in Hollywood and failed to impress influential showbiz agents, like Sam Jaffe, who later admitted to clients: "I almost signed Ava Gardner but all I saw was thick ankles and redneck accent."
Fortunately, Shaw discerned more potential in Gardner, although his mother, an Austrian Jewish balabusta described by Gardner as "crazier than a quilt," behaved like a "Jewish albatross around his neck all her life."
This description given by Gardner to her biographer had been previously used by Shaw himself, during a session with his Russian Jewish analyst, May E. Romm. To Romm, Shaw kvetched that his mother "gave me this exaggeratedly strange feeling about women in general. She was a Jewish albatross around my neck."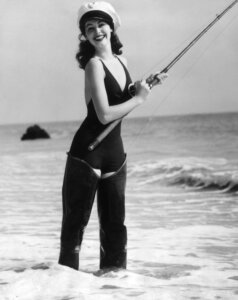 Ava Gardner, circa 1942. Photo by Getty Images
Friends and flings
Gardner, by contrast, found herself comfortable socializing with Shaw's Jewish literary friends like S.J. Perelman, co-writer of the Kurt Weill musical One Touch of Venus — Gardner played the title role in the film. But Shaw eventually left her and further irked Gardner at hearings of the House Un-American Activities Committee in Washington, D.C., by testifying against an old friend, the American Jewish screenwriter Hyman Solomon Kraft. Kraft had served as best man at the Gardner-Shaw wedding and she found it inconceivable that Shaw could betray someone to save his own performing career during the Hollywood blacklist era.
By comparison, Gardner's affection for Jewish friends was durable, including those in humble jobs. Hymie Fink, a West Coast nightclub photographer who would sedulously destroy any unflattering image, was described by Gardner to one interviewer as a "little Jewish guy who had the biggest nose I've ever seen in my whole life. He had little squinty eyes and big thick glasses; it was a face you could never forget — but he was a dear. I loved him."
Gardner also spoke highly of bit player Abraham "Mickey" Knox during the 1958 filming of The Naked Maja, a biopic about the painter Francisco Goya. Knox won her heart by affectionately calling her by the Yiddish-style diminutive "Avala." Gardner responded that the only other person to have called her that was her ex-husband Shaw. A brief fling with Knox followed.
Gardner also offered presumably platonic affection for the opera tenor and cantor Richard Tucker (born Rivn Ticker in Brooklyn of Bessarabian Jewish origin). A memoir by Tucker's son recalls the excitement in the 1950s when Gardner started attending his father's performances at the Metropolitan Opera, visiting him backstage during intermission to provide inspiration for the singer to achieve "greater operatic heights" in the second half of programs.
With Philip Roth
One Jewish admirer who sought more tactile inspiration was Philip Roth, who was seated next to Gardner at a 1980s party for Leonard Bernstein at the American Embassy in London. The next day, Roth wrote to pen pal Saul Bellow: "I never thought it would happen, but I've finally come to envy Mickey Rooney." An eyewitness to the encounter, the English Jewish television executive Alan Yentob, later recalled that Roth was "just at [Gardner] the whole time" and she left her contact details with him.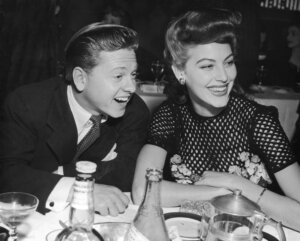 Gardner with her onetime husband, Mickey Rooney. Photo by Getty Images
After their fling, Roth returned to the U.S., but his wife, English Jewish actress Claire Bloom, was awakened one night in their London home by a phone call from an inebriated Gardner, who demanded to speak to Roth. Roth assured his spouse that Gardner was "just a friendly acquaintance." However Roth bragged to his friend Benjamin Taylor and others that as a sexagenarian, Gardner "had an enduring sexiness, even in London. In the 80s. When I had her."
In his 1995 novel Sabbath's Theater, Roth conveyed a view of Gardner's accumulated life experience as a form of women's cultural expression preferable to writings by Virginia Woolf:
"Ava Gardner. Blessed Ava. Wasn't much about men could astonish Ava. Elegance and filth, immaculately intertwined. Dead at sixty-two, two years younger than me. Ava, Yvonne de Carlo — those are role models! … Enough reading and rereading of A Room of One's Own — get yourself the collected works of Ava Gardner."
Other Jewish novelists, from Henryk Grynberg to Bruce Jay Friedman, have also alluded in fiction to Gardner as the epitome of feminine pulchritude who had lived life to the full. With these affinities, it is no wonder that John Barth's novel Coming Soon!!!: A Narrative corrects one character's "mistaken impression" that Gardner was "part-Jewish" because of her first name. Still, Barth added, an attempt to "rescue Ava Gardner for the Jews" might be made on the grounds that she was married to the "indisputably Jewish-American bandleader Artie Shaw" and therefore she "shared her husband's ethnicity, and he hers."
Gardner did dislike a few Jews. Louis B. Mayer, the tyrannical MGM studio boss, had dismissed her as a "hillbilly starlet" in her early years and she later ridiculed Mayer for thinking about converting to Catholicism. According to Gardner, one of Mayer's daughters assured him that "people would laugh in his face — a short, fat, famous Russian Jew — if he converted to Catholicism. Well, in Hollywood they definitely would have."
Playing Sarah
Another Jew who "didn't get to first base with me," Gardner avowed, was mobster Benjamin "Bugsy" Siegel, a founder of Murder, Inc., although she did date him "once or twice." Gardner's final significant relationship would be with American Jewish actor Benjamin Tatar. During a long career, she was only cast in one prominent Jewish role, as Sarah, wife of Abraham, in The Bible: In the Beginning.
In perhaps her most intense screen performance, as an archetypal Jewish mother in the Book of Genesis, Gardner charismatically created a counterexample to Artie Shaw's unfortunate Yiddishe momme. In the scene in which she bids farewell to her little son Isaac before he departs for his Binding and presumed sacrifice, her eyes simultaneously radiate love and fear with the emotivity of a silent film actress. This side of Ava Gardner, redolent with Yiddishkeit, may be especially cherished on her centennial.
The post How Ava Gardner found her home in a Jewish milieu appeared first on The Forward.
Advertisements | Advertising at The News And Times - advertising-newsandtimes.com | WE CONNECT!