A senior Azerbaijani diplomat has said that regional stability can only come from a comprehensive peace deal with Armenia. Armenian Prime Minister Nikol Pashinyan clings to power amid angry protests sparked by Baku's lightning victory in the latest conflict over the disputed Nagorno-Karabakh territory.
"They need to decide their prime minister. We can't decide it for them," Elin Suleymanov, Azerbaijan's ambassador to the U.K. and its former representative in the U.S., told Newsweek of the turmoil roiling Yerevan.
"The only issue which matters for us is that whoever is in power understands that any attempt to occupy Azerbaijani land, to question the territorial integrity and sovereignty of Azerbaijan, will not end positively," Suleymanov added.
"It is important for us to have a pragmatically thinking politician in Armenia. Who that person is is for them to decide… Let's see what happens."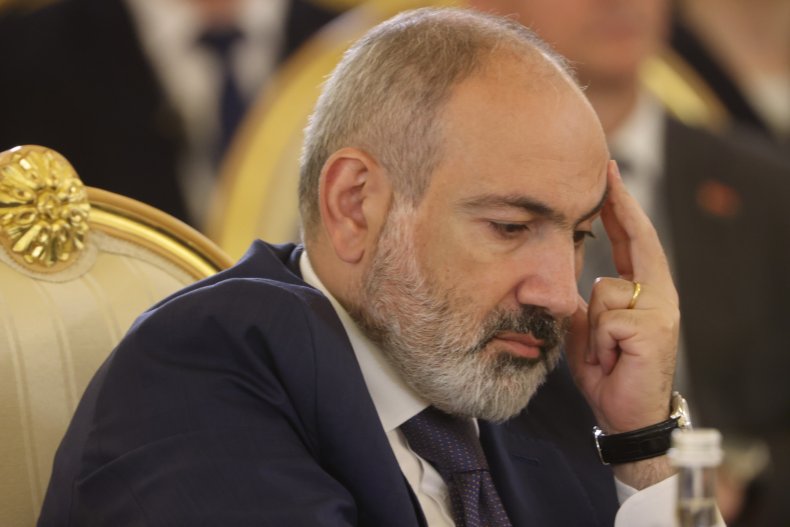 Nikol Pashinyan sits during the Supreme Economic Eurasian Council at the Grand Kremlin Palace on May 25, 2023 in Moscow, Russia. The Armenian prime minister is facing down angry protests after the latest eruption of violence in Nagorno-Karabakh.
Contributor/Getty Images
Peace talks between Azerbaijan and representatives of the ethnic Armenian, Yerevan-backed, self-declared Republic of Artsakh began on Thursday. Baku's troops had earlier forced regular Armenian and local militia units into a quick ceasefire in this week's anti-terrorist operation in the disputed region.
Nagorno-Karabakh is internationally recognized as Azerbaijani territory, but its 120,000 people are mostly ethnic Armenians. It has now been the subject of three conflicts since Armenia and Azerbaijan gained independence from the collapsing Soviet Union in the 1990s. This week's rapid Azerbaijani victory looks set to mark the end of separatist Armenian control over the enclave.
As in 2020, the decisive Azerbaijani victory prompted angry protests in Yerevan. Protesters denounced Pashinyan as a traitor for his perceived failure to come to the aid of his Artsakh allies. Now, fears of ethnic cleansing abound among Nagorno-Karabakh civilians and their allies in Armenia and the West. Such fears, Baku says, are unfounded.
Armenia's technologically inferior military, strategically weak position in Nagorno-Karabakh, and lack of international backing—especially with the prime minister's public falling-out with historic backer Russia in recent months—left Pashinyan in a bind.
Azerbaijani victory appeared a foregone conclusion. "For the separatists, the balance of power has always been not in their favor; 2020 showed that," Suleymanov said. "They're living in the past… Now the reality has come home.
"Unfortunately, it took a military effort," Suleymanov added. Though it was "limited in scope, but still, this is something that could, and should have been, avoided had the Armenian side actually acted rationally."
Newsweek has contacted the Armenian Foreign Ministry by email to request comment.
Tense Talks
The first round of peace talks ended on Thursday in the Azerbaijani city of Yevlakh. Per the ceasefire agreement brokered by Russian peacekeepers, Artsakh authorities agreed to disarm local units and have all Armenian military forces leave the enclave. Azerbaijani officials are pursuing reintegration.
The first round, Suleymanov said, "was a good meeting. It was actually a very good atmosphere. I guess it's probably too early to expect, from a first contact like that, a big political decision.
"In a way, it's the first step towards normalcy in the region," the diplomat added. "Think about it: for around 30 years, we have not had normal contact… Now people are meeting."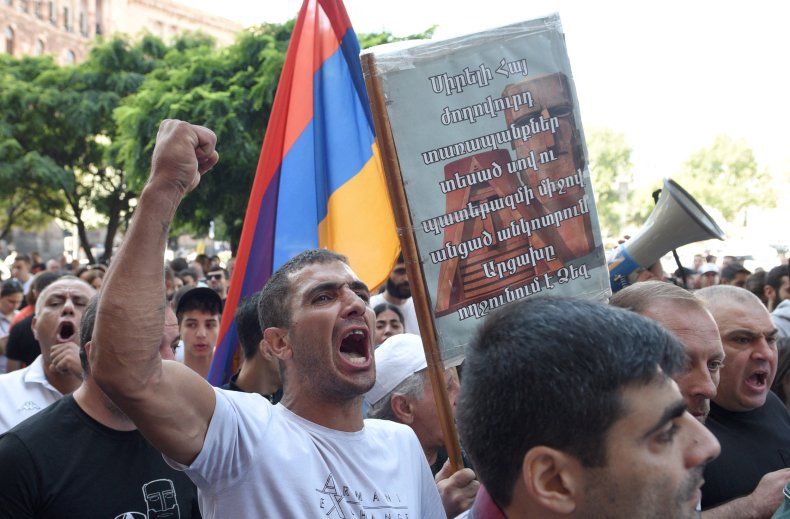 People take part in an anti-government rally in downtown Yerevan, Armenia, on September 22, 2023, following Azerbaijani military operations against Armenian separatist forces in Nagorno-Karabakh. Prime Minister Nikol Pashinyan is under renewed pressure to resign.
KAREN MINASYAN/AFP via Getty Images
"Overall, the ceasefire generally seems to be holding, which is the most important thing," Suleymanov said, noting that the collapse of negotiations and return to conflict is always possible. So is the splintering of Artsakh forces and the beginning of a guerrilla conflict. Still, the diplomat said this was not likely.
"The overwhelming majority have agreed, we have seen the disarmament process begin," Suleymanov added. "That is where the Russian peacekeeping force first plays a fundamental important role, because that's who's going to receive—at least an intermediary in the immediate future—the weapons and systems… Those kinds of minor hiccups are possible, but from now on, this becomes a criminal issue."
Successful conclusion of Azerbaijani-Artsakh talks might open the way for a broader peace deal with Armenia, ending decades of fractious relations punctuated by open conflict. "The bigger issue is the peace agreement between Armenia and Azerbaijan," Suleymanov said. "Those are the big talks."
The Diplomatic Front
Pashinyan's government has found itself caught between the Western and Russian camps. Moscow maintains several military bases on Armenian territory; counts Armenia among its Collective Security Treaty Organization allies; and is Yerevan's main military supplier.
But Pashinyan has repeatedly accused the Kremlin of failing to protect Armenian interests in Nagorno-Karabakh, despite Moscow's 2,000-strong peacekeeping contingent there.
The Armenian premier has responded by distancing himself from Moscow's war on Ukraine; overseeing joint military drills with the U.S.; and declaring it a mistake to have relied on Russian protection.
Baku, meanwhile, has cultivated deeper ties with the European Union and NATO, all the while under the de-facto protection of its close cultural and linguistic counterparts in Turkey.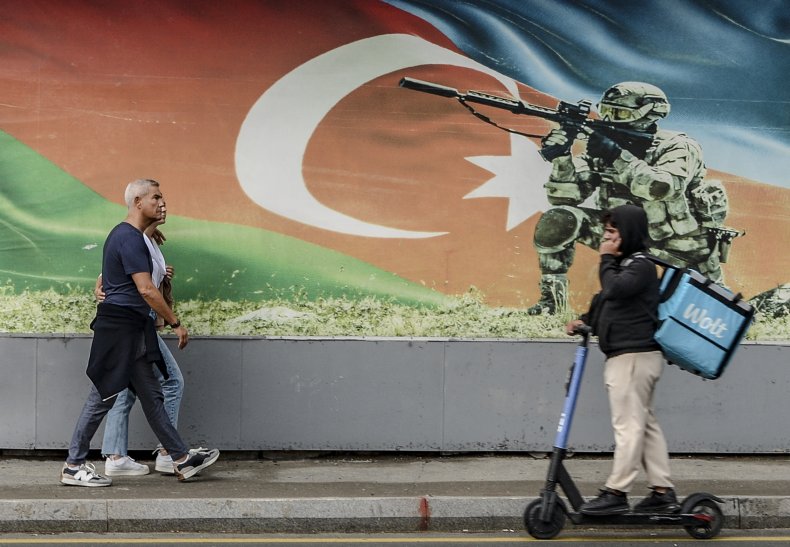 A couple walk past a patriotic poster in Baku, Azerbaijan, on September, 13, 2023. This week, Azerbaijani forces again entered the disputed Nagorno-Karabakh province and forced the surrender of Armenia-aligned separatist forces there.
TOFIK BABAYEV/AFP via Getty Images
Suleymanov called on Pashinyan and Yerevan to adopt a new approach. "You can say whatever you want. You can make all kinds of overtures—and it's up to the Armenian government how they want to make those overtures, including their statements vis-à-vis Russia and Europe. But the reality on the ground is right there. It has to be taken into account.
"First, they ask CSTO; then, they ask NATO. They go to Paris, then they go to Washington; all those external institutions or nations are outside of our region," Suleymanov said of Armenia's diplomatic efforts. "What they need to do is find a common language with Azerbaijan, Georgia and Turkey.
"In order to not have this external influence, I think the most important thing is that we do work with Armenia, we do sign a peace agreement, and we have relationship based on bilateral normalization rather than someone else," Suleymanov added.
"We cannot avoid it. This is a very geopolitically important region. It will always be affected by outside and global trends. But we need to minimize it."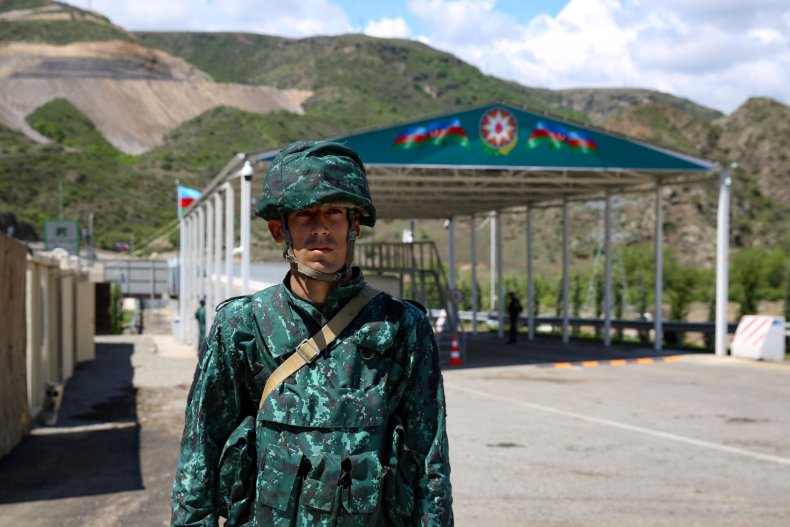 An Azerbaijani checkpoint is pictured at the entry of the Lachin Corridor, the Armenian-populated breakaway Nagorno-Karabakh region's only land link with Armenia, by a bridge across the Hakari river on May 2, 2023. This week, Baku's forces entered the enclave in an "anti-terrorist" operation.
TOFIK BABAYEV/AFP via Getty Images
Suleymanov was dismissive of Western concerns about Azerbaijani conduct, whether related to the most-recent operation or its decision to block the Lachin Corridor—the only road linking Armenia to Nagorno-Karabkh—for several months.
Baku said separatist forces were using the road to transfer weapons, soldiers, and plant landmines. Armenia and its local allies accused Azerbaijan of trying to precipitate humanitarian crisis and provoke a final showdown.
"We don't need anybody," Suleymanov said. "I know this may bother some of our Western friends who always want to insert themselves into the conversation. This 'white man's burden' just doesn't let them imagine that the Azerbaijanis and Armenians are mature enough to talk to each other without them. But we can and we should."
As for calls in the European Parliament for sanctions on Baku, the diplomat added: "Sanctions for what? For acting within our own sovereign territory, on our own land which everyone recognizes? This is very counterintuitive behavior."
Suleymanov accused Western lawmakers, media, and officials of double standards over Azerbaijani territorial integrity. Western governments, he said, consider the integrity of nations such as Georgia, Moldova, and Ukraine as sacrosanct.
"When it comes to Azerbaijan, it's not, whether it's because we're Muslims, or whether they don't see us as equals," Suleymanov said. "We're used to the fact that our friends and partners outside the region do not see the reality and see their own perception.
"Some people may say things. But we need to move forward towards peace," Suleymanov added.