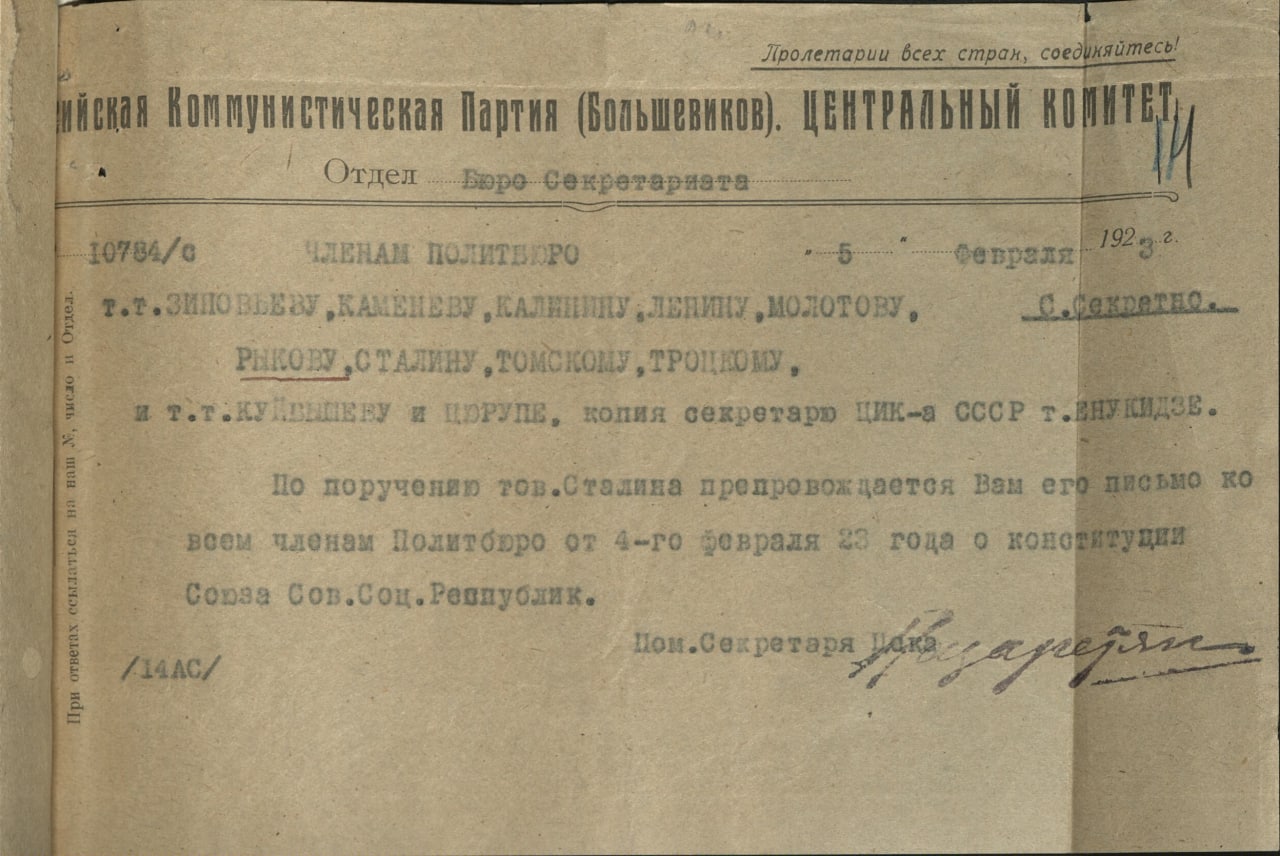 Полит.ру и телеграм-канал ГосАрхива «Документальное прошлое» продолжают совместный проект «Документ недели». На этот раз — история о сталинском видении национальной политики.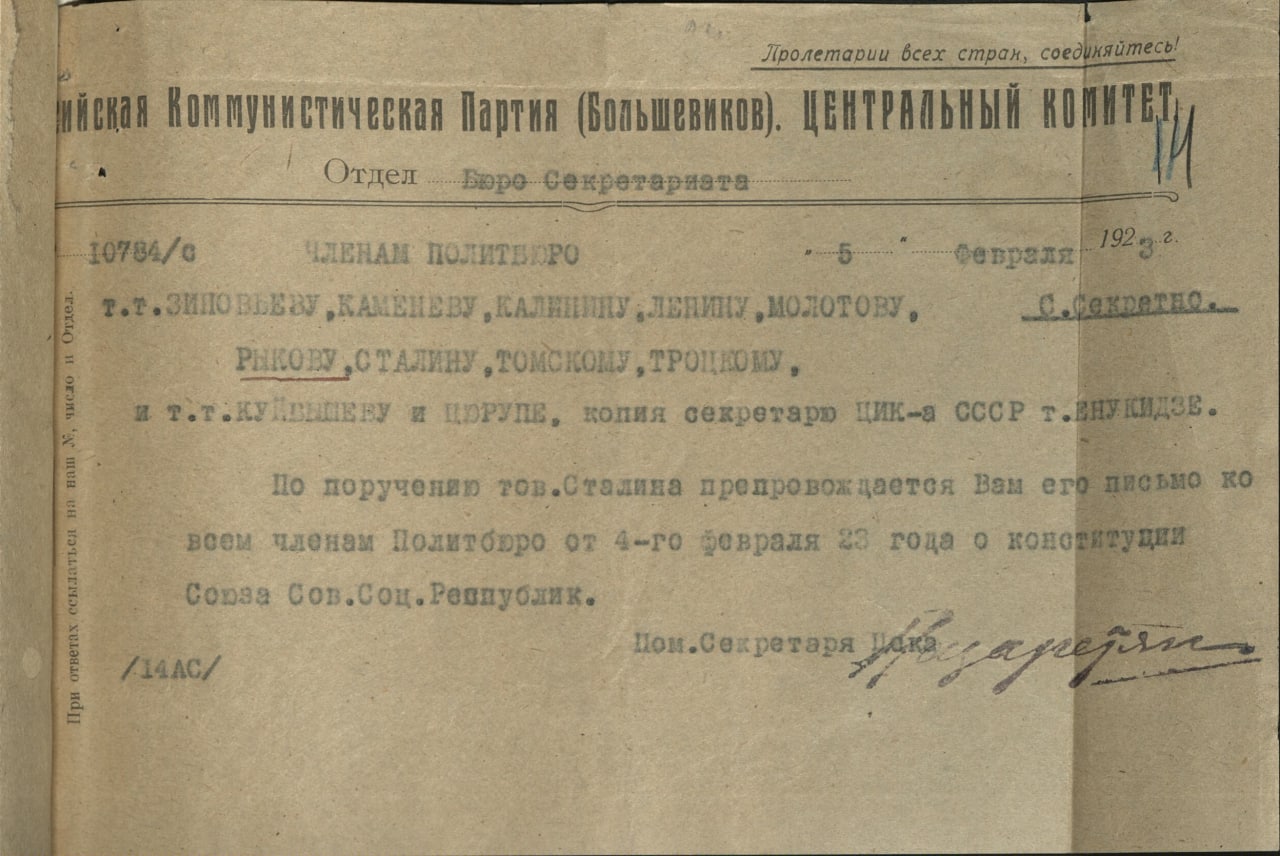 ГА РФ, Ф. Р-5446. Оп. 55. Д. 362
В феврале1923 года Народный комиссар по делам национальностей Иосиф Виссарионович Сталин разослал членам Политбюро свои соображения о будущей Конституции Союза Советских Социалистических республик. Собственно, государство под названием СССР было учреждено меньше, чем за 2 месяца до этого, 30 декабря 1922 года. Формально, договор о Союзе даже не был введен в действие. Поэтому партийные вожди лишь обсуждали общий вид нового государства, которое они недавно создали (и который должен быть отражен в его Основном законе).
Один из вопросов, который предлагает обсудить Сталин товарищам по Политбюро – как именно республики будут входить в Союз. Дело в том, что помимо Украины и Белоруссии Союз в 1922 году образовывали две Федерации. Одной из них была РСФСР (в которую на тот момент входили на правах автономии земли Средней Азии и Казахстана), а также Закавказская Советская Федеративная Социалистическая Республика, которая объединяла Азербайджан, Армению и Грузию. Соответственно, возникал вопрос, не должны ли автономные республики Федераций также полноправно вступать в Союз и быть сторонами Союзного договора, как Украина и Белоруссия. Сталин упоминает, что «этот вопрос сейчас усиленно дебатируется среди восточных националов и отчасти среди грузин». Сам нарком по делам национальностей упоминает о том, что включение автономных республик напрямую в Союз имеет свои преимущества, т.к. упрощает устройство нового государства. Однако если такое решение будет принято, то возникает плохо разрешимая дилемма – что же делать с русским народом.
Как прямо говорит Сталин вхождение автономий в Союз разрушает РСФСР, поскольку это «обязывает нас создать отдельную русскую республику, что сопряжено с большой организационной перестройкой». При этом, развивает свою мысль Сталин, при создании такой русской республики из разных автономных республик придется исключать главные города с преобладающим русским населением и вообще серьезно перекраивать их границы.
Поскольку заниматься такой работой и создавать русскую республику никто, видимо, не отважился (а сам Сталин этого крайне не рекомендовал), то федеративные республики оставили без изменений.
Фактически Сталин объяснял членам Политбюро, что Союз не получается устроить просто и гармонично из-за того, что девать русский народ оказывается некуда. При этом РСФСР так и осталась в Союзе громадной территорией с многочисленными автономиями, которую не могли распределить как-то иначе просто потому, что тогда пришлось бы действительно всерьез формализовывать статус русских в СССР (впрочем, некоторые «восточные националы» из Средней Азии и Казахстана все же получили отдельные республики).
Advertisements | Advertising at The News And Times - advertising-newsandtimes.com | WE CONNECT!