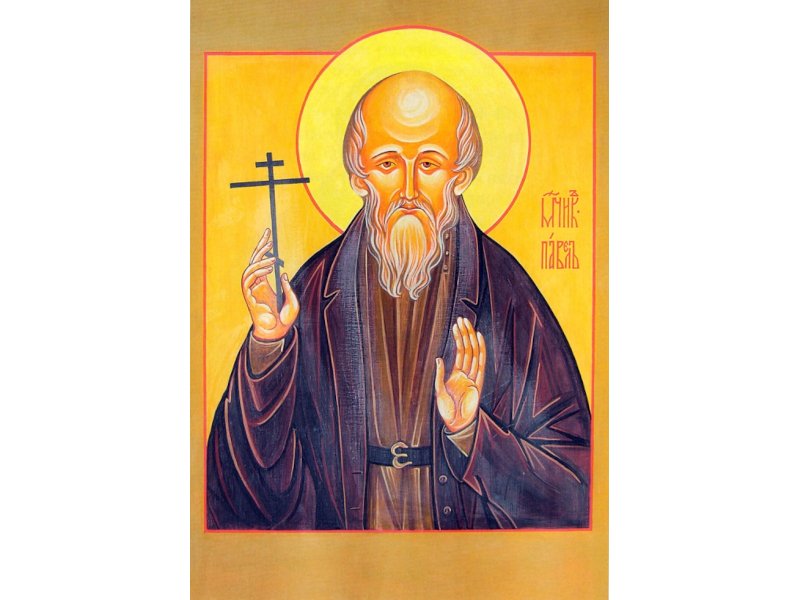 Павел Елькин — сын крестьянина из села Шошка Усть-Сысольского уезда Вологодской губернии. Мальчика на воспитание взял дед, живший в Усть-Сысольске. Павел окончил приходскую школу, получил навыки кузнеца и слесаря. До революции работал в Петербурге на трубочном заводе.
С воодушевлением встретил известие о революции и свержении царского режима, стал одним из активных участников установления Советской власти в Коми крае. В 1918 году 42-летний Павел Елькин вступил в ВКП(б), красный партизан. Но уже в конце 1920-х отошел от этих дел.
Жил Павел со своей семьей в местечке Кочпон, возле храма, был рабочим Сыктывкарского лесозавода. В 30-е годы в Сыктывкар жизнь прибила многих незаурядных людей. Пристанищем был храм, где находили свой приют и молились архиереи, священнослужители. Знакомство с ними перевернула жизнь коммуниста Елькина. Не последнюю роль сыграла и жена, исполнявшая в одно время обязанности старосты храма. Личное знакомство и дружеские отношения с епископом Германом (Ряшенцевым) также повлияли на веру бывшего коммуниста. Павел был в тесных отношениях с владыкой.
В 1929 г. он был исключен из партии «за связь со служителями культа, активный церковник».
Его, как и епископа Германа, арестовали 24 февраля 1937 года. «При аресте отобрана троцкистская литература, буржуазно-националистическая литература на коми языке». Обвинялся в «участии в к/р церковной группе фашистского толка "Священная дружина" во главе с епископом Германом (Ряшенцевым)».
На время содержания в Сыктывкарской тюрьме «страдал пороком сердца, расширением легких». Осужден Тройкой при УНКВД Коми АССР по статье 58.10 УК РСФСР и приговорен к высшей мере наказания.
Расстрелян 15 сентября 1937 года в окрестностях Сыктывкара.
Advertisements | Advertising at The News And Times - advertising-newsandtimes.com | WE CONNECT!