When the dinosaur menorah — perhaps better known as the menorasaurus — came onto the scene in 2015, Hanukkah would never be the same. Since then, it has become inescapable, basically the mascot of Hanukkah.
Except — wait. The phrase "happy Llamakkah" is nearly as ubiquitous, often knitted into ugly holiday sweaters along with the eponymous spitting animal. Gnomes are also strangely unavoidable on Hanukkah merch.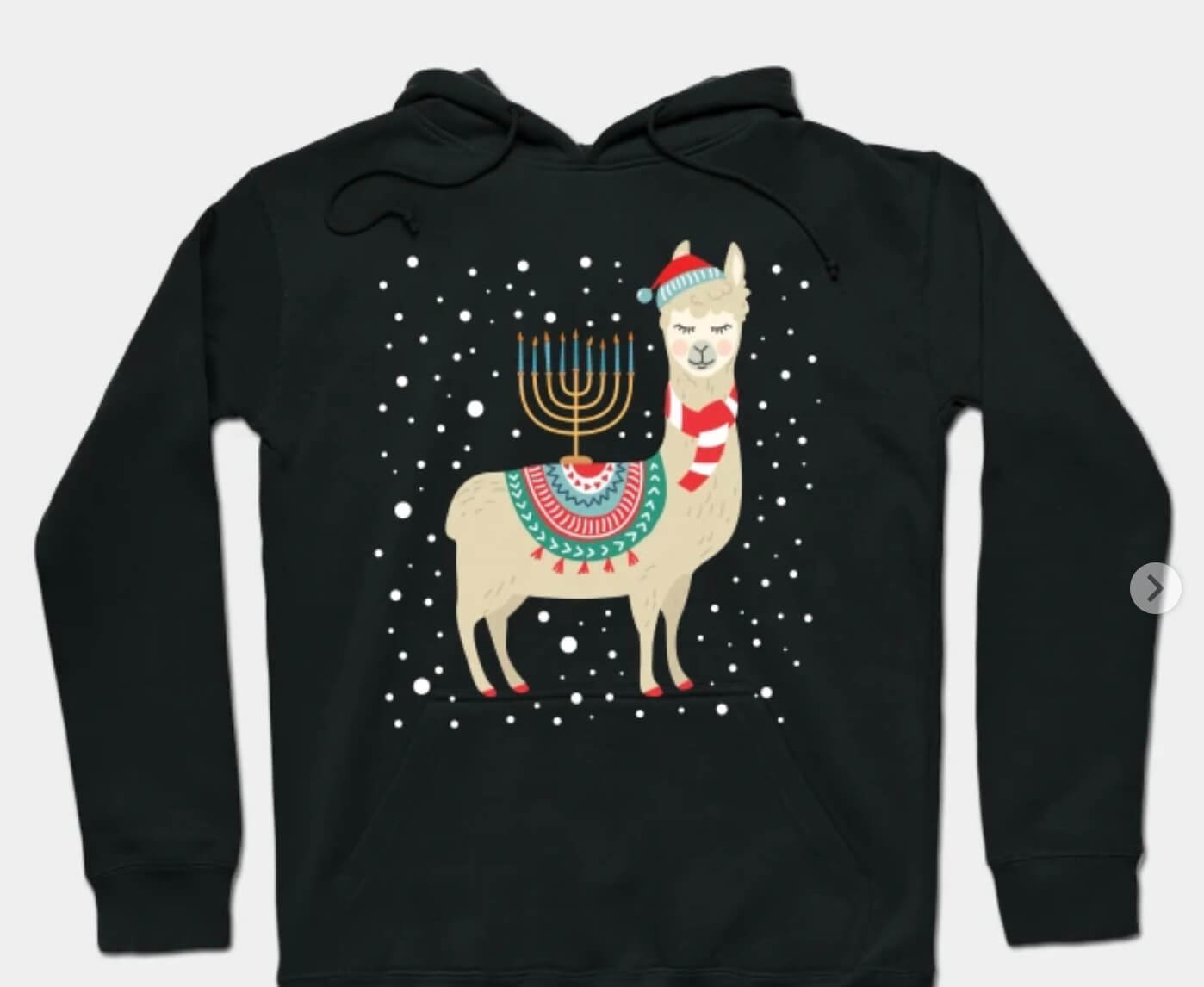 Why did they have to put a Santa hat on the Hanukkah llama? Courtesy of TeePublic
And Jewish influencer and artist @maimonides_nutz has a viral Hanukkah design with a goose, based off of a viral Hanukkah tweet, which is now the cover of the J., the Jewish newspaper of the Bay Area. Plus, this year, Target has heavily invested in a lion theme for the holiday.
"There is an entire Hanukkah animal universe," said Rabbi Yael Buechler, who designs Jewish holiday pajamas.
It should probably go without saying, but just to be clear — there are no dinosaurs, llamas, geese or gnomes in the Hanukkah story, which is about assimilation and civil war among (human) Jews. But animals are fun, and Hanukkah in America has long been focused on appealing to children. 
In the mid-20th century, Jewish kids often ended up singing Christmas carols and participating in the Christian holiday at school and with friends. In response, American Jewish parents and rabbis began to frame Hanukkah as an equally engaging holiday, and began exchanging gifts and doing decorative crafts to involve their kids.
That means novelty menorahs (and kippahs) have long been part of American Judaism. But how did these few animals become so universal — and which one is the true mascot of Hanukkah?
A menorasaurus for llamakkah
The dinosaur's Hanukkah moment is pretty simple: The dinosaur menorah launched it to stardom. The design found fame when Etsy seller Lisa Pierce began to make menorahs out of repurposed children's toys. Then, Benjamin Packard made it viral, selling thousands and eventually outsourcing the manufacturing to China so he could keep up with demand.
The llama popped up at a similar time, though it wasn't originally so Hanukkah-specific. Llamas were just kind of in during the second half of the 2010s. 
Llama fever started with kids' merchandise and picture books like Llama, Llama, Red Pajama, and the llama became the most popular children's costume on Pinterest. By 2019, llamas at large were declared toy of the year at the New York Toy Fair. (A toy expert told Oprah's magazine that the llama boom was due to kids liking "quirky" animals, which isn't much of an explanation in my opinion — are armadillos not quirky? Emus?) In 2018, we saw the launch of the llama emoji. Eventually, llamas got popular with grown-ups too, and countless llama-shaped planters and throw pillows appeared on Etsy. Even major corporations like Nestlé hopped on the trend with llama-shaped candy.
And once retailers discovered the — pretty weak — pun of "llamakkah," they never turned back. (Fa-la-la-la-llama was also a thing, but Christmas has enough going on already.)
A dinosaur doing the dab in a Santa hat is the perfect mascot for Hanukkah … right? Courtesy of Amazon
But somewhere along the line, both the dinosaur and the llama got divorced from their original context. Now, you can find nearly any kind of Hanukkah merch with a llama or a dinosaur — often without the accompanying pun or menorah. Sweatshirts simply read "Rawr" and feature, for no obvious reason, a dinosaur with Stars of David. Llamas adorn Hanukkah mugs.
"The llamakkuh stuff, it kind of became abstracted," said Rachel Kenneth, who runs the Instagram account @hanukkahfails documenting bad Hanukkah merch. "You just started seeing llamas on hanukkah things but it didn't say llamakkuh so it was fully out of context. Just like, OK, now llamas are a Hanukkah thing."
Hanukkah dinosaurs followed the same trajectory, Kenneth said. Dinosaur menorahs are now mainstream enough to be found in big box stores. But you can also find dinosaurs of all varieties in picture books, strolling across T-shirts and even in the form of giant inflatable holiday yard decorations. (My sister has one.)
Gnomes for all occasions
When I chatted with Kenneth, we both wondered if Hanukkah gnomes were based on stereotypes about Haredi Jews. (Historically, gnomes are sometimes linked to antisemitic beliefs.) Plus, gnomes seem more of a natural pick for Christmas, since Santa is basically a bushy-bearded gnome himself.
"Traditional" Hanukkah gnomes. Photo by Yael Buechler
But it's not about Jews in particular — gnomes are having a weirdly big moment in the sphere of quirky home decor more generally. At HomeGoods, a housewares store beloved by moms on TikTok and Instagram, you can find a gnome for every season and occasion: a Halloween gnome and a more generic autumn gnome, a lemonade-themed gnome, a Fourth of July gnome, a black-tie gnome. They come as plushies, in the form of cookie jars and mugs, and adorn mugs and mixing bowls.
"Once a small trend catches on they do it for everything," said Kenneth of the Hanukkah gnome. "So only because they're doing them for everything do I not feel like they're antisemitic."
Lions take over
In addition to designing pajamas, Buechler writes about the evolution of Jewish merchandise. She told me that lions have entered the market this year, most notably at Target, which features lion Hanukkah pajamas and even a lion menorah (which, from certain angles, looks very phallic).
"I haven't quite figured that one out yet," Buechler said of the lions, "but there's certainly symbolism in Judaism with lions."
From this angle, it's sort of fine. Courtesy of Target
Buechler hypothesized that perhaps the lions are connected to the popular children's show Daniel Tiger, since they're drawn in a similar style. And there is, of course, the story of Daniel in the lion's den which, while unrelated to Hanukkah, is certainly Jewish.
But that might be thinking about it too hard; maybe lions are just cute and marketable.
Whatever the reason corporations decided to sell Hanukkah animals, however, Buechler thinks animals give kids a way to connect through the holiday. Instead of simply a ritual object, which might feel hard to understand, there's an animal toy or cartoon, which feels welcoming and playful.
Choose your fighter
Sure, none of the animals, or gnomes, are really connected to the basic Hanukkah story. But they help make the holiday more accessible. Anything that can inspire pride, or that kids can wear to school and brag about to their friends is probably going to get them more into the celebration. 
"My kids love wearing anything Jewish," Buechler said. "There's a certain sense of pride that they experience by wearing something that's connected to their Judaism."
All of the cute, quirky Hanukkah merchandise also, of course, makes for good social media photos. And while some might worry that celebrating just for the 'gram is a shallow form of engagement — or that kids aren't really learning about Hanukkah when they're celebrating via gnomes — well, Buechler does not.
"From my rabbinic perspective, it significantly increases engagement with Hanukkah," she said. "For a family that might've only had one night or two nights of Hanukkah they're actually increasing the number of nights they're really celebrating Hanukkah to also get more mileage out of the photos."
That means that whichever Hanukkah animal makes you celebrate more is the true mascot of the holiday. You can even make up a new one — maybe a crocodile with a mouth full of candles, the shamash perched on his tail. Actually, I'm going to patent that one before Target takes it.
The post Llamas, dinosaurs, gnomes, oh my! Which creature is the real Hanukkah mascot? appeared first on The Forward.