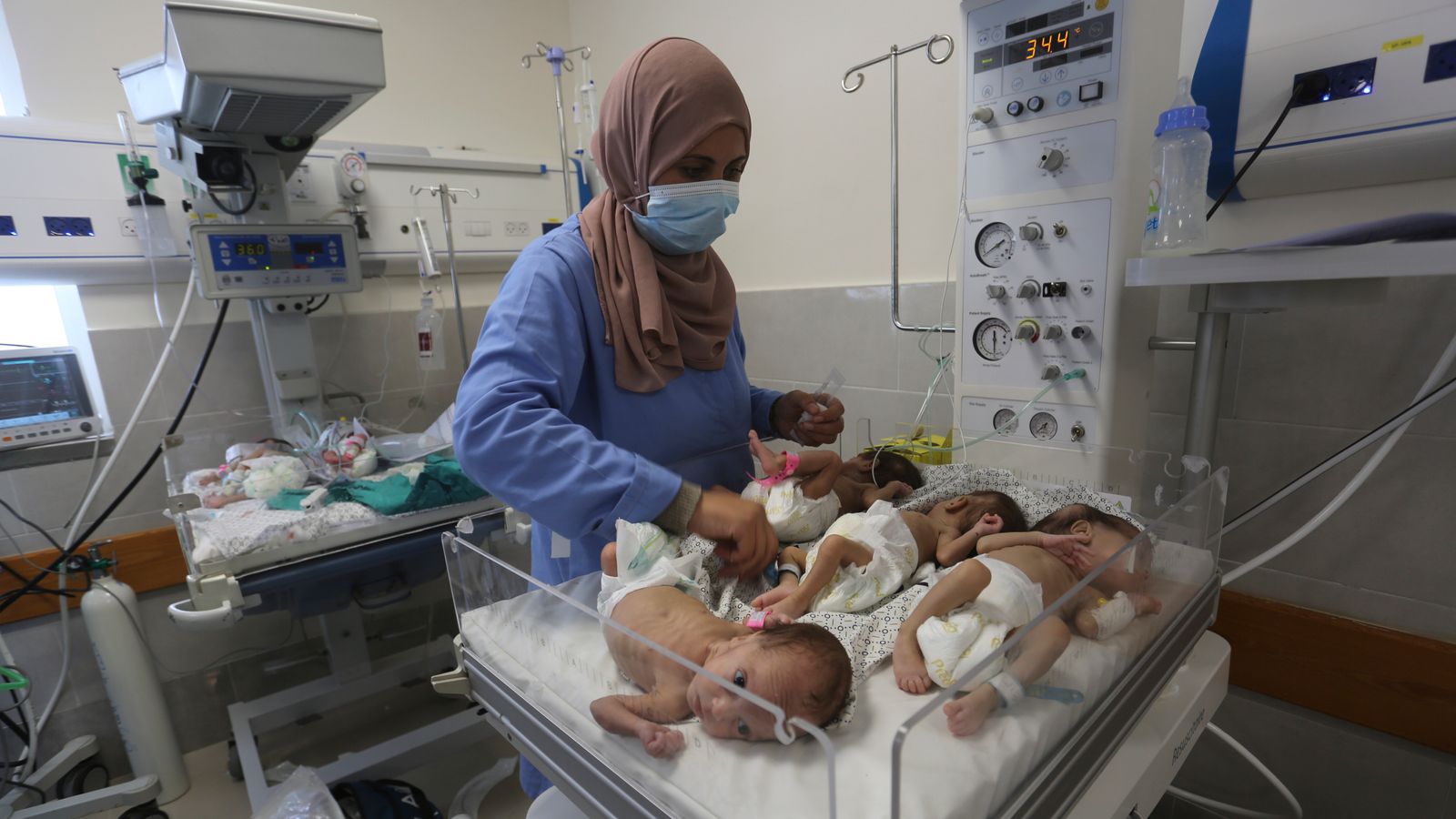 Explained: What could hostage deal involve?
There's growing hope dozens of hostages seized from southern Israel by Hamas might soon be released. 
Last night, US and Israeli officials said a deal was edging closer, while Qatari mediators continue to seek an agreement where up to 50 captives would be handed over, in exchange for a pause in fighting, potentially three or five days.
Our international affairs editor Dominic Waghorn has been discussing what a deal could involve…
"Hope is building. We heard from Prime Minister al Thani in Qatar, who is the chief negotiator, saying the broad outlines of a deal are there – but the devil is in the detail.
"There still seems to be differences about the number of hostages, but also the logistics of how they are found in the various bits of Gaza and how they are brought in. 
"The deal is still thought to be focused on the women and children. Israel wants all women and children out of Gaza and in return, it is prepared to hand over a greater number of Palestinian women and children they are holding in their jails.
"There is still hesitation among some in the Israeli government as to if this is the right moment to have a pause in the fighting. 
"They believe they are still pressing home an advantage against Hamas and will worry about the chances of their enemy regrouping. 
"That's being stacked against the impatience about getting women and children out of Gaza and obviously a huge amount of pressure from allies as well."
Three Hamas commanders killed, claims Israel
Three Hamas commanders have been killed as ground operations continue in Gaza, the Israel Defence Forces has claimed. 
Fighter jets directed by the IDF and the Israel Securities Authority targeted the militants as well as "terrorist infrastructure" in the region, it said in its latest update. 
Troops also found a "weapons depot", which was "struck" by an IDF aircraft, it added. 
"Ground operations in the Gaza Strip continue; the IDF and ISA killed three additional company commanders of the Hamas terrorist organisation," it said. 
"IDF troops continue to operate in the Gaza Strip, directing aircraft to strike terrorists, terrorist infrastructure, and locating weapons and military equipment."
It did not detail what part of the besieged Palestinian enclave was targeted in the strikes. 
It shared these photos, claiming to show the military operation, but Sky News has not independently verified them. 
Japan 'directly reaching out' to Houthis after ship hijacked and crew taken hostage
Japan has said it is "directly reaching out" to Yemen's Houthi rebels after they hijacked a ship in the Red Sea. 
Houthis rappelled from a helicopter onto the Japanese-operated cargo ship before taking the 25-member crew hostage, according to US and Israeli officials. 
The vessel is linked to one of Israel's richest men, and the attack came after the militant group vowed to target ships affiliated with the country. 
Japanese chief cabinet secretary Hirokazu Matsuno said the government was doing its utmost for an "early release" of the ship and its crew.
"While communicating with Israel, in addition to directly reaching out to the Houthis, we are also urging related countries such as Saudi Arabia, Oman and Iran to strongly urge the Houthis to release the ships and sailors as soon as possible," he said. 
The Houthis are part of an Iran-aligned regional alliance, which also includes Hamas and Lebanon's Hezbollah.
It has blamed Israel for instability in the Middle East, saying the "circle of conflict" in the region was driven by its "continued crimes".
Premature babies to be taken to Egypt today
A total of 31 premature babies were safely moved from Gaza's main hospital to another in the south over the weekend, and today they will be moved to Egypt, health officials have said. 
It comes as scores of other critically wounded patients remain stranded at al Shifa hospital, days after Israeli forces entered the compound.
The fate of the newborns captured global attention after photos showed doctors trying to keep them warm and placing several of them in one bed. 
A power cut had shut down incubators and other equipment, while food, water and medical supplies ran out as Israeli forces battled Hamas militants outside the hospital.
World Health Organisation chief Tedros Adhanom Ghebreyesus said the "very sick" babies were evacuated, along with six health workers and 10 staff family members.
He said they were taken to a hospital in the southern Gaza city of Rafah where they are receiving urgent care.
A UN official said the babies were threatened by serious infections, with 11 in critical condition.
A WHO team that visited the hospital on Saturday said 291 patients were still there, including the babies, trauma patients with severely infected wounds and others with spinal injuries who are unable to move.
Israel has long alleged that Hamas uses the facility for military purposes – a claim the militant group has denied. 
Israeli troops, who have been based at the hospital and searching its grounds for days, say they have found guns, a tunnel shaft and weapons. 
Good morning
Welcome back to our live coverage of the conflict.
Before we resume reporting, let's get you up to speed on the key developments that took place yesterday.
Hospital tunnel: The IDF claimed to have found a Hamas tunnel underneath the al Shifa hospital complex. A Hamas official said a tunnel did not indicate any military presence, alluding to previous accusations made by the IDF that a Hamas headquarters was positioned under the hospital.
Babies evacuated: 31 babies were evacuated from the hospital following a WHO mission to the facility, but a UN official warned all of them were threatened by serious infections, with 11 in critical condition.
"Death zone": The WHO described al Shifa as a "death zone" which had ceased to function as a hospital, finding a mass grave at its entrance where more than 80 people were buried.
Hostage deal hopes: A US official said a hostage deal was closer than ever, but warned it could all fall apart at the last hurdle. Israel said it was hopeful a significant number of hostages could be freed in the coming days, while Qatar, which has been meditating negotiations, said only minor "logistical" challenges remained.
Ship hijacked: Houthis launched from a helicopter onto a ship linked to one of Israel's richest men before taking its crew hostage, according to US and Israeli officials, and a statement by the Houthis. The Yemen-based group vowed to target ships affiliated with Israel.
Death toll climbs: The number of Palestinians killed in Gaza reached 13,000, according to its Hamas run government media office.
Arab and Muslim ministers in Beijing urge end to war
Arab and Muslim ministers have called for an immediate ceasefire in Gaza, as their delegation visited Beijing on the first leg of a tour to push for an end to hostilities and to allow humanitarian aid into the territory.
The delegation, which is set to meet officials representing the permanent members of the UN Security Council, is also piling pressure on the West to reject Israel's justification of its actions against Palestinians as self-defence.
The officials holding meetings with China's top diplomat Wang Yi on Monday are from Saudi Arabia, Jordan, Egypt, Indonesia, Palestine and the Organisation of Islamic Cooperation, among others.
Pro-Palestinian convoy in London caused 'danger to other road users', Met says
Police are trying to identify 15 people who took part in a pro-Palestinian convoy that caused "danger to other road users".
A total of 80 cars "stopped twice on major roads" – the A13 and the Limehouse Link Tunnel – Scotland Yard said.
It caused "not only disruption but danger to other road users".
Read full story below…
Watch: Gaza on verge of major disease outbreak
The World Health Organisation's regional emergency director, Richard Brennan, has told Sky News that Gaza could be "on the precipice of a major disease outbreak".
With 800,000 people crammed into overcrowded schools and other "collective centres", skin infections including scabies are being found, along with jaundice and diarrhoea, Mr Brennan said.
Lammy on visit to Israel and Occupied Palestinian Territories
Shadow foreign secretary David Lammy is making Labour's first visit to Israel and the Occupied Palestinian Territories since the Israel-Hamas war started.
In Israel, he will meet President Isaac Herzog and other politicians after calling for a "longer pause" to the conflict to alleviate the "shocking humanitarian emergency" in Gaza.
Mr Lammy will also meet the Palestinian Authority's deputy foreign minister Amal Jadu in the West Bank.
From Israel, Mr Lammy criticised the international allies for failing to realise the threat posed by Hamas ahead of the 7 October attacks.
The shadow foreign secretary urged them to "learn the lessons of decades of failure to resolve this conflict".
He said political leaders have been complacently "content with the delusions of wishful thinking" while failing to work for a two-state solution for Israel and Palestine.
Mr Lammy also stressed that "diplomacy is how we can secure the release of hostages" while protecting Palestinians, as Israel carries out a ground assault.
"Hard diplomacy is required with all governments in the region to deliver a longer pause immediately to respond to the shocking humanitarian emergency in Gaza, secure the release of hostages so cruelly taken by Hamas and as a necessary step to an enduring cessation of violence," he said.