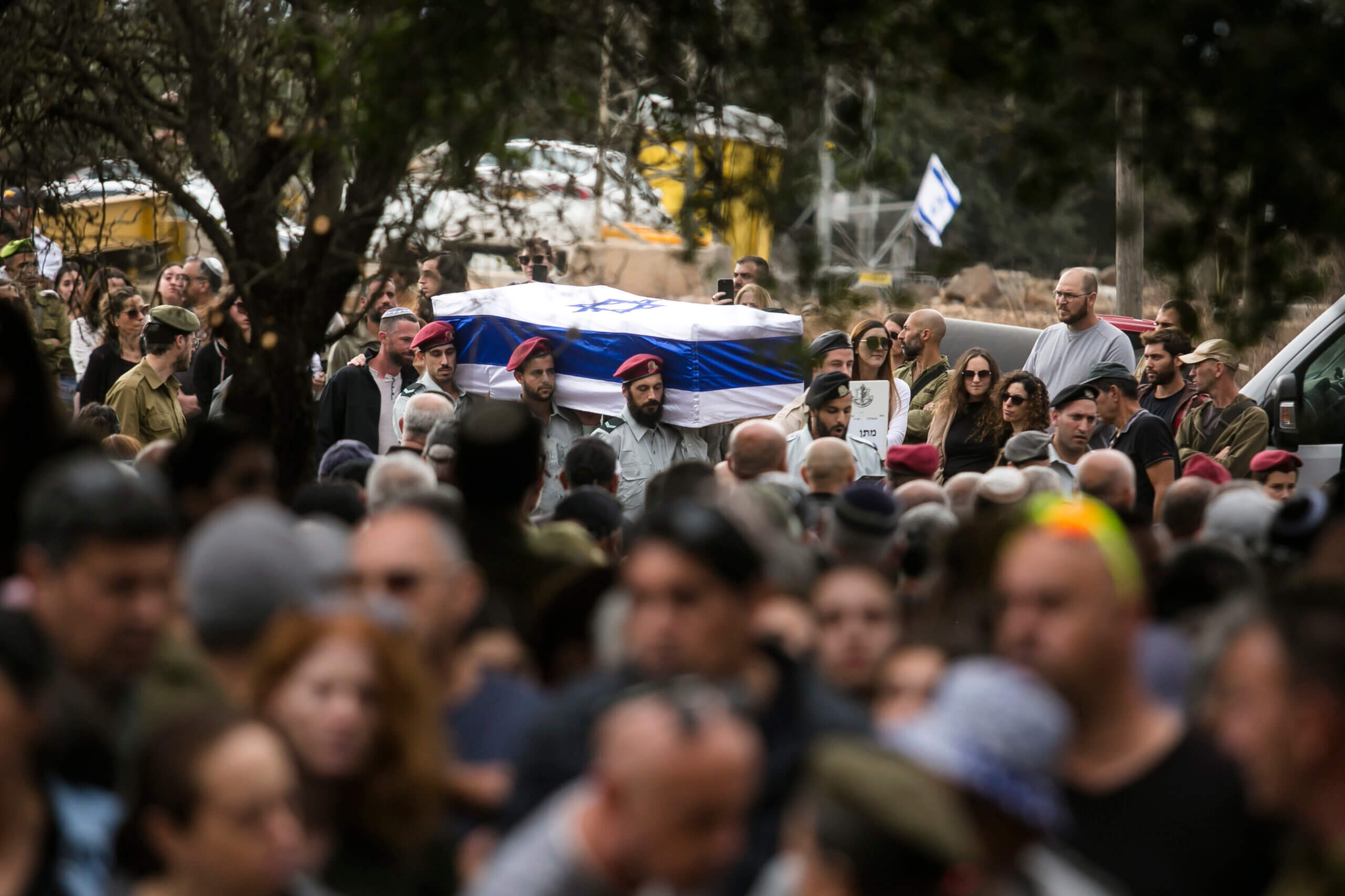 In nearly 25 years as a rabbi, no one I have counseled through the Jewish stages of mourning has ever shared they have "gotten over" the loss of a loved one. Yet those ritualized phases help us put one foot in front of the other, to remember the people who have died even while we look toward the future with hope.
The Jewish way of grieving individual loss can be instructive now as the global Jewish community copes with the staggering losses in the horrific Oct. 7 Hamas terror attack and the weeks since and seeks to reposition itself, to imagine its future.
We start with aninut — the period between death and burial, where words themselves fail; in this instance, it was extended for days or weeks in many cases because of the difficulty of identifying remains and the sheer volume of bodies. Next comes shiva — the seven days following burial, a time filled with visits from friends and family, words of consolation, and rugelach.
Shloshim lasts 30 days, when mourners return to work, school or their basic routine, but still avoid non-essential socializing and entertainment. Finally, there is a year of avelut, a somber period in which we continue to say the Mourners' Kaddish for parents, often culminating with the unveiling of a memorial headstone.
The rites and rituals of Jewish mourning provide us the tools to journey through the emotional phases of loss — from shock, to anger, to grief and eventually acceptance and a return not to life as it was before, but to a changed life without that loved one. The Jewish people today are in a blur of these phases — moving from shloshim into avelut for the estimated 1,200 people killed in Israel on Oct. 7 but shocked anew into aninut and the rest as Israeli soldiers and, yes, Palestinians continue to die in the battle to root out Hamas.
For unlike the passing of a beloved relative, our present grief is not situated on any one day. Israel is still at war, which means daily sacrifices of both civilians and soldiers. There are still some 240 men, women and children, elderly and infirm being held captive by Hamas. There is an evolving and growing presence of antisemitism on our campuses, schools and streets.
The referent point for our loss may be the attacks of Oct. 7, but it is a grief that is continuing, unfolding and in many respects still escalating. Those attacks provide enduring moral clarity to the challenges facing Israel and the Jewish people.
As we grieve, we must reject any attempt to situate the atrocities of Oct. 7 into a perverse "nobody's hands are clean" arc of conflict narrative. We must reject any suggestion that Israel does not have a right to respond to being attacked and defend its citizens. We must reject any argument that Israel is not within its rights to do what it needs to do to bring the hostages back to their families. We must reject any such arguments, period, full stop.
But, like all mourners, we must also build a vocabulary for the future. Even and especially with things as recent and raw as they are, we must consider tomorrow. Even as events continue to unfold in real time, it is not only fair but our obligation to ask what the future holds for the Israeli-Palestinian conflict.
To grieve over the Israeli victims does not preclude grieving over the loss, too, of innocent Palestinian lives. Human as it is to lose sleep thinking of the well-being of the courageous soldiers of the Israel Defense Forces fighting in Gaza, it is inhumane to not also lose sleep at the thought of all the Gazans caught in the crossfire of war.
Our love of both Israel and humanity demands that we bring an end to the cycle of generational violence altogether unworthy of our children and grandchildren.
Ours is a moment in need of a plausible path forward. A Marshall Plan of reconstruction that will help build a future of coexistence, provide political stability, contain extremism and reward good behavior.
Israel has every right to do what it needs to do to ensure its future security. Hamas is not a rational actor and any vision of a shared future has to be with a partner that accepts Israel as a Jewish and democratic state as part of that vision — something Hamas does not.
But Israel has a responsibility to allow and encourage that partner to emerge. Pointing out the historic, repeated, and present failures of the Palestinians to step up to a peaceable coexistence with the Jewish state does not absolve Israel of its obligation to continue to pursue peace.
Richard Haass, who served as a U.S. special envoy to Northern Ireland, pointed to that seemingly intractable conflict in a recent talk at our synagogue.
In the 1990s, Haass said, Britain made clear, by way of its military strength, that the path of terrorist violence would fail. At the same time, Britain made clear that there was a track of diplomacy through which the IRA could achieve more at the negotiating table than on the battlefield. Together, these paths resulted in the Good Friday Agreement, which just passed its 25th anniversary.
Israel's response to the attacks of Oct. 7 remains morally defensible if and only if it pursues a diplomatic path to Palestinian self-determination with the same ferocity as it prosecutes its war on Hamas. Israel must provide this path because no matter one's estimations of the Palestinians, the future of a secure, democratic and Jewish state depends on it.
Mourning is about finding that path forward even as we remember the hurt, as we hold onto the pain of the loss. The grief we are experiencing can only be managed, never transcended. We must nonetheless consider the future, work toward its realization and, as our tradition teachers, honor the dead by choosing life.
The post How Jewish mourning rituals can help us move from Oct. 7 to a peaceful future appeared first on The Forward.