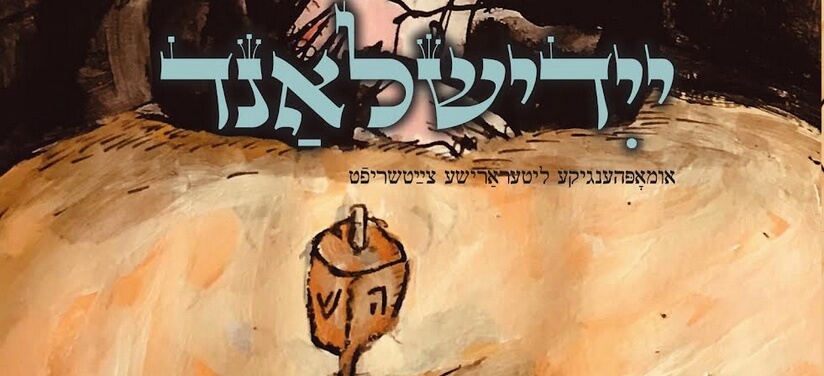 אין ישׂראל — און מיט אַ פּאַראַלעלן טיראַזש אין שוועדן — איז אַרויס דער נײַער האַרבסט 2022 נומער פֿונעם זשורנאַל "ייִדישלאַנד".
אין פֿאַרגלײַך מיט די פֿאָריקע נומערן, וואָס זענען געווען געווידמעט אַ געוויסער טעמע, איז דער איצטיקער נומער אַ פֿאַרשיידנאַרטיקער. אינעם פּאָעטישן אָפּטייל זענען אַרײַן לידער פֿון אַנאַ וויזהוי, וועלוול טשערנין, יואל מאַטוועיעוו, דוד־עומר כּהן, אלי שאַרפֿשטיין, באָריס קאַרלאָוו און פֿעליקס חיימאָוויטש. וויזהויס דיכטונג־סעריע "ווילדע קווייטן פֿון אוקראַיִנע" קלינגט באַזונדערס רירנדיק, נעמענדיק אין באַטראַכט, וואָס ס׳טוט זיך הײַנט אינעם דאָזיקן לאַנד, הגם אָנגעשריבן האָט זי אירע לידער פֿאַר דער רוסישער אינוואַזיע. די דיכטערין וווינט אין זאַלצבורג, עסטרײַך.
דער זשורנאַל הייבט זיך אָן מיט מיכאל פֿעלזענבאַומס לײַכטער עראָטישער דערציילונג וועגן אַ ייִד, וואָס מוז זיך ראַטעווען אין ווײַטע צפֿונדיקע מקומות פֿונעם ראַטן־פֿאַרבאַנד.
אויך אַ לײַכטער, לוסטיקער סוזשעט איז יעלענע מאַרונדיקס "שוועמלעך־מעשׂה". די מחברטע איז אויסגעוואַקסן אינעם ייִשובֿ "סאָצגאָראָדאָק" (דאָס "סאָציאַלע שטעטל") אין דער ייִדישער אויטאָנאָמער געגנט, לעבן ביראָבידזשאַן. הײַנט וווינט זי אין קרית־ביאַליק, ישׂראל. ס׳איז אינטערעסאַנט פֿון דער שרײַבערישער פּערספּעקטיוו, ווי אַזוי מע קאָן דערציילן וועגן אַזאַ טעמע, ווי דאָס קלײַבן שוועמלעך, אויף ייִדיש. לכתּחילה האָט מאַרונדיק אָנגעשריבן די מעשׂה אויף רוסיש; סלאַווישע שפּראַכן רעפּרעזענטירן אַ רײַכע שוואָמען־קלײַבערישע קולטור.
די אַמעריקאַנער שרײַבערין קלאַראַ־בעל האָט אָנגעשריבן אַ כּמו־מיטל־עלטערלעכע מעשׂה מיט מענטשן־פֿרעסער, רויבער און מערדער ־־ אַ בולטער קאָנטראַסט מיט די פֿריילעכע דערציילונגען וועגן ליבעס און שוועמלעך.
אַחוץ זײַנע אייגענע לידער, שרײַבט דער מינסקער ייִדישער דיכטער פֿעליקס חיימאָוויטש וועגן דעם איבערזעצער און זשורנאַליסט סיאַרהיי שופּאַ, וועלכער האָט נישט לאַנג צוריק אַרויסגעגעבן משה קולבאַקס געזאַמלטע לידער אין אַ ווײַסרוסישער איבערזעצונג. שופּאַ וווינט אין פּראָג, אָבער איז אויפֿגעוואַקסן אין ווײַסרוסלאַנד.
מע קען אויך לייענען וועלוול טשערנינס איבערזעצונג פֿון יצחק באַבעלס קורצער דערציילונג "דעם רבינס זון". דער באַקאַנטער שרײַבער, אַ געבוירענער אין אַדעס (1894 – 1940), איז געווען אַ גלעצנדיקער רוסישער סטיליסט, נאָר געשריבן האָט ער וועגן אוקראַיִנע.
אַ באַלערנדיקער מאַטעריאַל איז לייבו לעווינס מײַסטערישע איבערזעצונג פֿון אַנאַ אַכמאַטאָוואַס פּאָעמע "רעקוויעם", באַגלייט מיט אַן ערנסטן פֿאָרשערישן אַרטיקל. די רעדאַקציע פֿון "ייִדישלאַנד" האָט באַקומען דעם כּתבֿ־יד פֿון לייבו לעווינס טאָכטער, דער זינגערין רות לעווין.
הלל קאַזאָווסקיס אַרטיקל וועגן דעם מאָלער תּנחום קאַפּלאַן איז אויך אַן ערנסטע פֿאָרשונג. אַן אַנדער פֿאָרשערישער אַרטיקל, פֿון טשערנין, דערציילט וועגן זאבֿ זשאַבאָטינסקיס צוגאַנג צו ייִדיש. מע וואָלט געמיינט, אַז זײַענדיק אַ באַרימטער רעכטער ציוניסט, האָט דער דאָזיקער פּאָליטישער טוער גאָרנישט געהאַט צו טאָן מיט דער ייִדישער שפּראַך. מיט דאָקומענטאַלע ראַיות ווײַזט טשערנין, אַז ס׳איז נישט אַזוי פּשוט.
דער סאַמע חידושדיקער מאַטעריאַל, באַצייכנט אינעם וואָרט פֿון דער רעדאַקציע ווי "אַ ביסל אַן עקזאָטישער", איז, מסתּמא, ליזע דאָמניקאָוואַס מעשׂה פֿון דער קעטשואַ־מיטאָלאָגיע. אויף וויפֿל מע ווייסט, איז עס די ערשטע דירעקטע איבערזעצונג פֿונעם דאָזיקן אינדיאַנער לשון אויף ייִדיש. אין דרום־אַמעריקע, בפֿרט אין פּערו, רעדן אויף קעטשואַ בערך 10 מיליאָן מענטשן.
אינעם זשורנאַל איז אויך דאָ אַ קליינער מוזיקאַלישער אָפּטייל: די נאָטן פֿונעם ליד "אַן אָפּהיטעניש פֿאַר שדים" לויט די ווערטער פֿון יצחק באַשעוויס. דאָס אַליין איז טשיקאַווע ווײַל באַשעוויס איז נישט באַקאַנט פֿאַר זײַן פּאָעזיע. דער קאָמפּאָזיטאָר איז אַבֿי בנימין.
The post Love, mushrooms and cannibals in the new issue of Yiddishland appeared first on The Forward.