The Minions are back again, and this time the small yellow creatures are taking their future boss Gru on a new adventure set before the events of Despicable Me.
Both a prequel to Despicable Me and a sequel to Minions, The Rise of Gru charts the eponymous character's quest to becoming a villain worthy of joining a team of nefarious reprobates known as the Vicious 6.
Steve Carell and Pierre Coffin once again return to their title roles in the animated film franchise, and they are joined by an A-list cast of actors.
Minions: The Rise of Gru Voice Cast: All the Stars Joining Steve Carell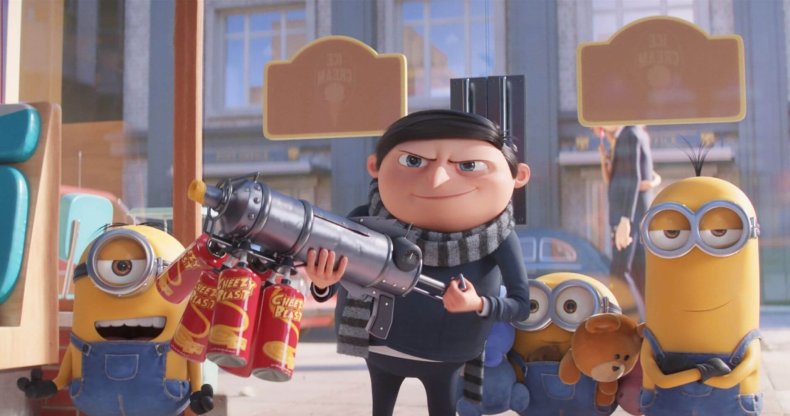 A still from "Minions: The Rise of Gru" featuring Gru and Minions Bob, Stuart and Kevin. Both Steve Carell and Pierre Coffin return to voice their respective characters from the "Despicable Me" franchise.
Universal Pictures
As previously mentioned, Carell and Coffin reprise their roles as Gru and the Minions, respectively, with the latter voicing quartet Kevin, Stuart, Bob and Otto in particular—but they're not the only actors returning to the franchise.
Russell Brand reprises his role as Dr. Nefario, Gru's future partner in crime, in the Minions sequel, while the iconic Julie Andrews has also come back to voice the villain's mother Marlena once more.
Steve Coogan, who has voiced several characters in the Despicable Me franchise, also returns to voice Silas Ramsbottom, the director of the Anti-Villain League who appeared in the franchise's second film.
The Vicious 6 are voiced by a number of iconic stars, with Michelle Yeoh playing member Master Chow, Jean-Claude Van Damme voicing the aptly named Jean Clawed, Dolph Lundgren lending his voice to Svengeance, and Taraji P. Henson voicing the group's new leader Belle Bottom.
The villainous team is completed by Danny Trejo as Stronghold, Lucy Lawless as Nunchuck, and Alan Arkin as the Vicious 6's former leader Wild Knuckles.
Other notable actors voicing characters in the kids film include comedians Will Arnett and Jimmy O. Yang, and Futurama star John DiMaggio.
Here is the Full Voice Cast for 'Minions: The Rise of Gru':
Steve Carell as Gru
Pierre Coffin as Kevin, Stuart, Bob, Otto, and the rest of the Minions


Taraji P. Henson as Belle Bottom
Michelle Yeoh as Master Chow
Jean-Claude Van Damme as Jean Clawed
Lucy Lawless as Nunchuck
Dolph Lundgren as Svengeance
Danny Trejo as Stronghold
Russell Brand as Dr. Nefario
Julie Andrews as Marlena Gru
Alan Arkin as Wild Knuckles
RZA as Biker
Jimmy O. Yang as Henchman #1
Kevin Michael Richardson as Henchman #2
John DiMaggio as Henchman #3
Michael Beattie as VNC Announcer and Guru Rick
Will Arnett as Mr. Perkins
Steve Coogan as Silas Ramsbottom
Colette Whitaker as Gru's Teacher
Raymond S. Persi as Birthday Kid
Minions: The Rise of Gru will be released in theaters on Friday, July 1.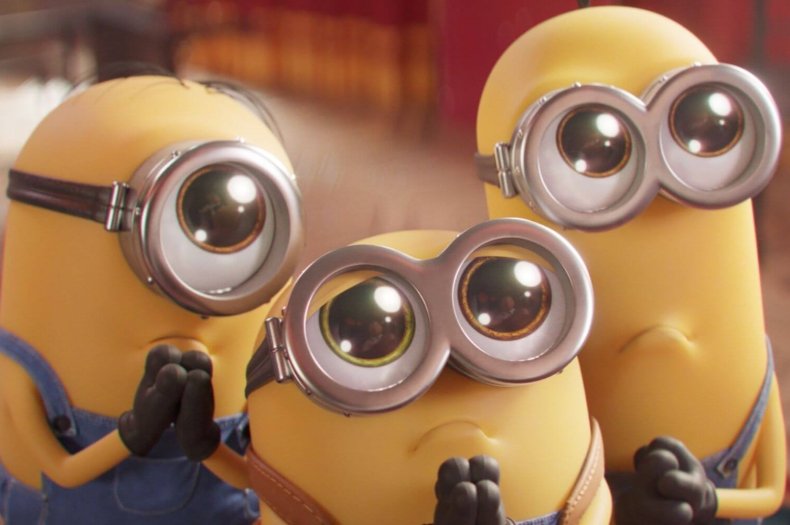 The Minions from "Minions: The Rise of Gru" which will come out in theaters on Friday, July 1.
Universal Pictures