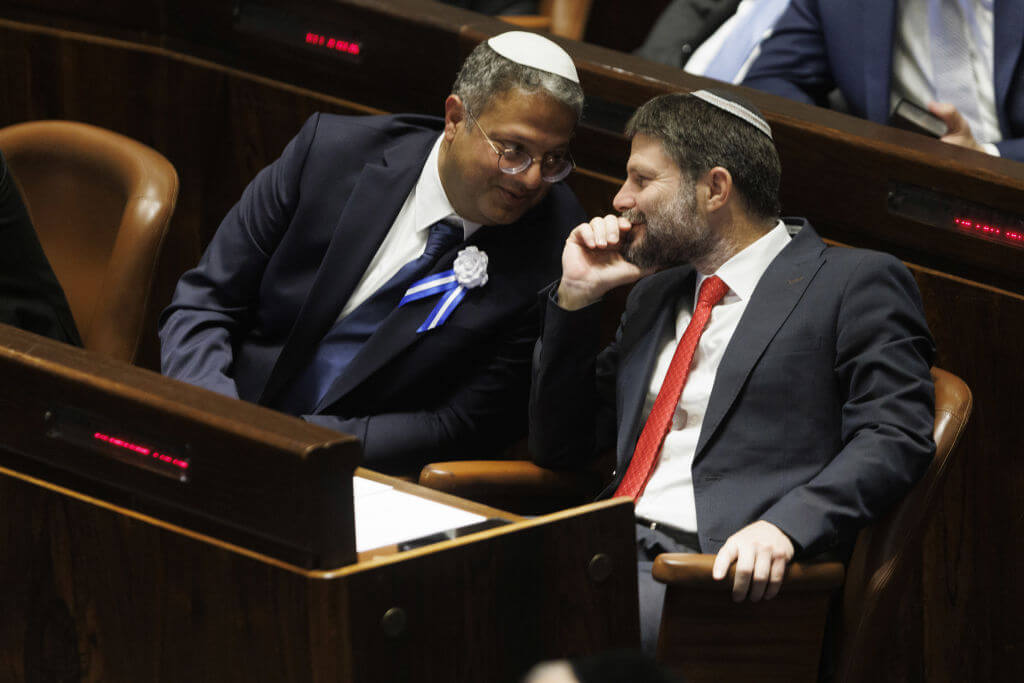 In the month since the Israeli public soundly rejected its government (which had been widely praised by international leaders) and voted for a new patriotic, nationalistic, right-wing government, many allies of Israel have felt it was their role to warn the incoming Israeli government against adhering to the wishes of the voters, as doing so would threaten Israeli democracy.
The accusations largely stem from inflammatory statements and actions attributed to the triumphant religious nationalists Betzalel Smotrich and Itamar Ben-Gvir, including: threatening to expel all Arabs from Israel, comparing gay marriage to incest and, in Ben-Gvir's case, being convicted of incitement to racism.
Yet despite this damning portfolio, there is a long history of victorious Israeli political leaders making politically incorrect and even unpalatable statements prior to assuming office, which then, improbably, previewed cautious and restrained behavior upon assumption of the responsibility of actual governance. It is important for the American Jewish community to understand that there is a vast difference between a potential Israeli politician's campaign slogans and their actual policies once elected.
The late former prime minister Yitzchak Rabin is best remembered as a Nobel Peace Prize winner for signing the Oslo Accords, the agreement that envisioned Israel surrendering territory to a soon-to-be-created Palestinian state. However, his activities and rhetoric prior to Oslo would never have led one to believe that he would legitimize Yasser Arafat and surrender land to the Palestinians.In response to the First Intifada of the late 1980s, Rabin encouraged the Israeli military to take a more assertive approach toward Palestinian teenage stone throwers and even advocated "break their arms and legs." On the eve of Election Day in 1992, Rabin stated firmly: "It is inconceivable that even if there is peace, we will leave the Golan Heights. Whoever thinks about leaving the Golan Heights will abandon — will abandon — Israel's security." Rabin's policy toward the Golan Heights is one that he later reconsidered as his perspectives and priorities changed. Rabin eventually softened his territorial stances for the sake of peace, but only after many years of projecting to the Israeli electorate an image of forceful strength.
Rabin is only one of many examples of Israeli politicians whose rhetorical bark was tougher than their governing bite. In his autobiography, An American Life, President Ronald Reagan recounts how, in 1982, he referred to then-defense minister Ariel Sharon as "a man who seems to be looking for a reason to start a war." And yet roughly 20 months after emphatically declaring on the campaign trail that "Netzerim [an Israeli community in the Gaza Strip] will have the same future as Tel Aviv," he implemented the plan to surrender and evacuate all Israelis from Gaza in 2005.
While serving in a previous government as the defense minister in 2016, outgoing finance minister Avigdor Lieberman promised to overthrow Hamas and "eliminate [Hamas leader] Ismail Haniya within 48 hours." Due to a lack of opportunity and political limitations, this statement never translated into action.
These bombastic statements on campaign trails do not translate into actionable policies for a reason. Israeli journalist Amit Segal, in his book The History of Israeli Politics, suggests that the political middle ground will not win Israeli elections. Israeli candidates must instead campaign to their base supporters as there are minimal crossover voters, particularly with so many political parties to choose from. In order to appeal to one's base, political leaders will use sharp, stinging words generating pushback from their political opponents, which only heightens the distinctions between factions. Once they are in office, however, their policy decisions and statements are more measured.
Political reality essentially requires campaign statements to be extreme, highlighting differences and alternative viewpoints. However, all those who were once considered hawkish extremists, including Rabin, Sharon and Lieberman, ultimately demonstrated responsibility and moderation, and did not destroy Israel's tolerant and democratic character.
The statements which are now being used to undermine the possible pending appointments of Ben-Gvir and Smotrich must be viewed in a similar light. They, unlike their rivals who have launched a demonization campaign against them, know how to distinguish campaign slogans from policy, as evidenced from Smotrich's experience as transportation minister. Despite his campaign pledge to run the entire country based strictly on halachic observance, he quickly moderated that approach once he became the transportation minister, stating clearly that he doesn't believe in religious coercion.
Western countries consistently revere the democratic process, but not always the democratic results, particularly when voters of allied countries like Israel elevate individuals like Smotrich and Ben-Gvir. Despite the democratic process functioning as it should, tolerance and mutual respect despite the outcome are being replaced with rejection and draconian threats. This can lead to a mutual mistrust between allies and a weakening of resolve to work together.
There will always be limitations between what an individual politician may want to implement, versus what they legally and politically can achieve. For democracy's sake, it is critical for Israel's international friends to give our newly elected leaders a chance.
This is the time to offer support and wish them success, not the time to accuse them of exterminating democracy.
To contact the author, email editorial@forward.com. 
The post Instead of bemoaning new Israeli government, American Jews should give it a chance appeared first on The Forward.