The first time I tasted frico I immediately thought: latke.
A traditional dish from the Friuli-Venezia Giulia region in the northeast corner of Italy, frico is a disk of grated potato, onion and Montasio cheese fried in oil. That simple addition of a grassy, fragrant Alpine cheese turns what would otherwise be a light-ish latke into a complete, savory meal. 
"It's simple and perfect for cold weather," Bobo Ivan, chef at Factory Kitchen in downtown Los Angeles told me.
Bobo — no one addresses him by his last name, at his request —  is a friend, and when we showed up for dinner at his restaurant, he sent out a frico garnished with a head of grilled radicchio and drizzled with a balsamic vinegar reduction. It was one of those rare freezing cold nights in LA when the temperature plunged to 61 degrees, and the frico was the perfect way to warm up. Bobo said he puts it on the menu in winter and takes it off in spring.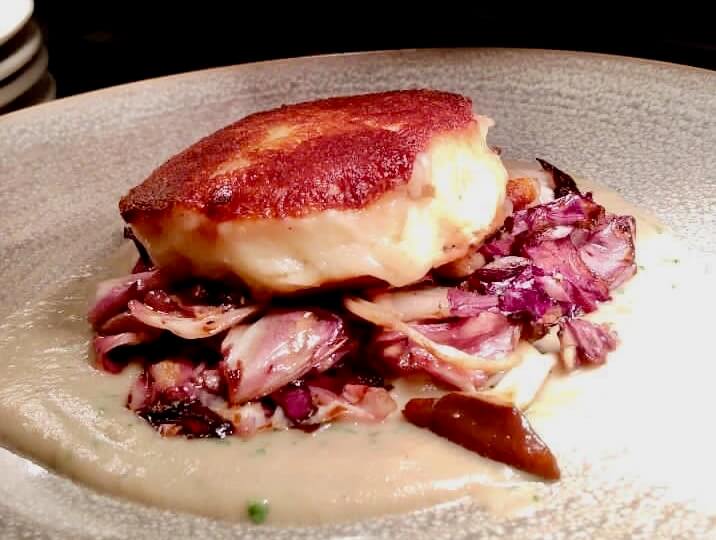 Frico — potatoes, onion and Montasio cheese — on a bed of grilled radicchio. Photo by Factory Kitchen
I've made latkes, and I've made fondue. But until Bobo served me frico, it never occurred to me that the two should marry. Later I texted Bobo that I needed the recipe, because this Hanukkah we'd be eating more frico.
It turns out, there are dozens of ways to make frico, just like there are to prepare latkes.
The restaurateur and food TV personality Lidia Bastianich, who is from Friuli-Venezia Giulia, makes a version that encases the potato and onion between two sheets of grated, melted and browned cheese, like one of those inside-out quesadillas that have overtaken my Instagram feed. She makes another version that uses egg, which is, whether they know it or not in Trieste, a latke. Some recipes call for boiling the potatoes first, others for grating them along with the onion — again, very latke-like.
Bobo is also Friulian, from Sacile, where he trained as a chef before moving on to work at the Michelin-starred Al Capriolo and restaurants throughout Europe, New York and LA. He said he makes his homey frico "restaurant fancy" by forming it in a ramekin and crisping it in olive oil, then serving it with radicchio, from one region away, and a balsamic reduction. 
"Not a Friuli thing at all," he said.  "Sautéed porcini or speck would be a very friulano thing."
After Bobo shared his recipe with me, I searched LA for Montasio cheese and came up empty. But Bobo recommended an aged piave as a suitable substitute. If you can't find piave — this is me, not Bobo— try another aged Alpine cheese such as Comté or even a high quality Swiss.
Bobo's version of frico is puck-shaped, with a uniformly crisp exterior that cracks open to reveal soft cubes of potato, rivulets of me cheese and wisps of soft-cooked onion. The radicchio garnish is optional, but the key is that cheese, which makes this latke, I mean, frico, a Hanukkah meal unto itself.
The post Of course the Italians make a better latke appeared first on The Forward.