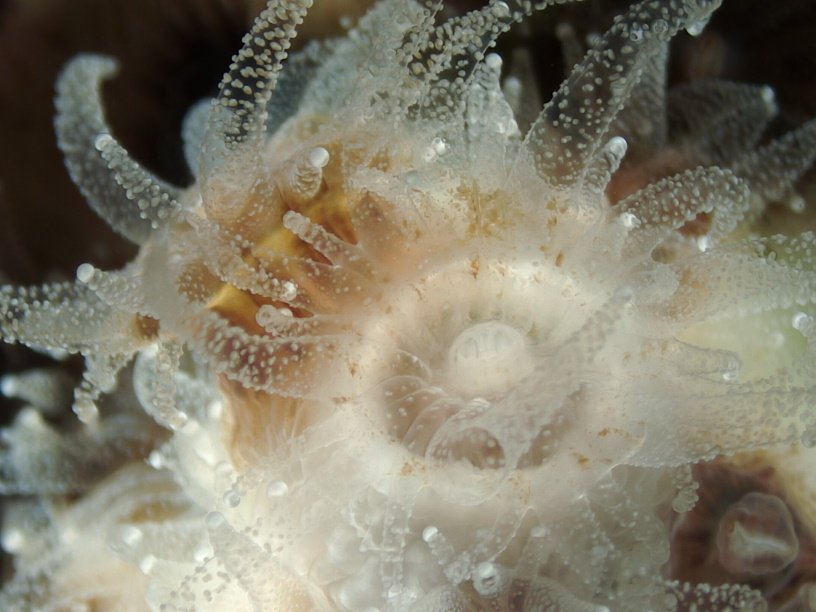 Специалист по биологии кораллов Аня Браун (Anya Brown) из Калифорнийского университета в Дэвисе и ее коллеги обнаружили, что когда один из видов кораллов «впадает в спячку», состав его микроскопических симбионтов меняется.
Северный звездчатый коралл, или астрангия (Astrangia poculata), распространен в Атлантическом океане и Карибском море. Он представляет собой разновидность каменистого коралла, не образующего рифы. В более холодных водах он способен впадать в состояние покоя в зимний период. Полипы втягивают свои щупальца, перестают питаться и реагировать на прикосновения.
«Покой, по сути, является реакцией на стрессовый фактор окружающей среды — в данном случае на холодовой стресс, — говорит Аня Браун. — Если мы узнаем больше об этом периоде восстановления, это поможет нам понять, какие микробы могут влиять на восстановление кораллов в более теплых тропических системах».
С октября 2020 года по март 2021 года исследователи совершали погружения на глубину около 18 метров в холодную воду с температурой 4 °C и собрали фрагменты отдельных колоний коралла A. poculata в доке в Вудс-Хоул, штат Массачусетс. Ученые охарактеризовали микробиомы диких кораллов до, во время и после периода покоя. Они обнаружили, что, пока коралл «спит», его микробиом избавляется от микробов, любящих питательные вещества и связанных с патогенами, и увеличивает количество микробов, которые вырабатывают азот, пока коралл не питается. «Мы давно выдвинули гипотезу о том, что сезонный покой астрангии позволяет коралловому микробиому перезагружаться и реструктурироваться, — сказал один из авторов работы Коти Шарп (Koty Sharp) из Университета Роджера Уильямса. — Наше исследование обнаружило доказательства изменения состава микробиома в течение периода покоя, которые могут помочь нам идентифицировать микроорганизмы, имеющие ключевое значение для здоровья кораллов и восстановления после нарушений».
Исследование опубликовано в журнале Applied and Environmental Microbiology.
Advertisements | Advertising at The News And Times - advertising-newsandtimes.com | WE CONNECT!