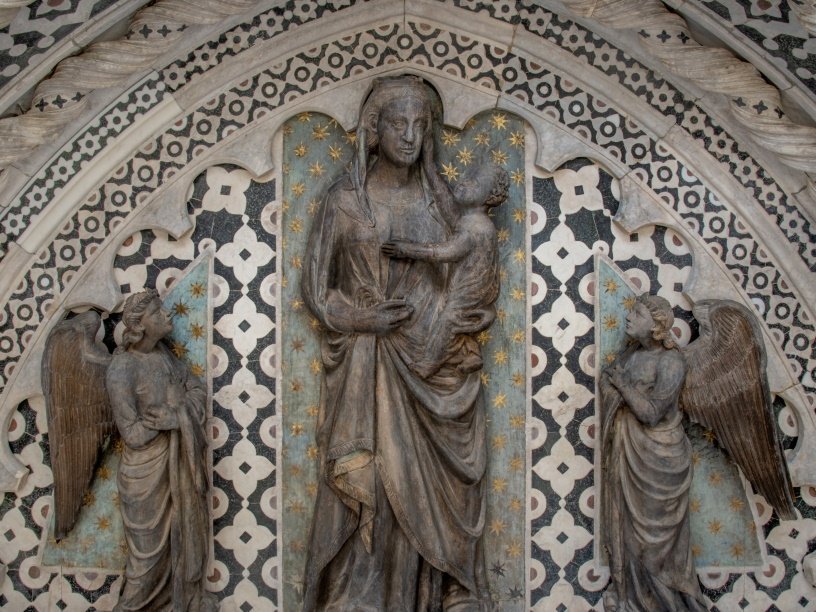 Реставрация мраморных рельефов на северном фасаде кафедрального собора во Флоренции выявила оригинальную полихромную краску на скульптурах Мадонны с младенцем и двух ангелов. Скульптуры датируются 1359–1360 годами и установлены в арочной нише над Порта деи Корнаккини, дверью в северной стене собора. Ранее считалось, что эти скульптуры всегда имели естественный белый цвет мрамора.
Мрамор северного фасада остро нуждался в консервации, поскольку он подвергся обширной эрозии из-за стока дождевой воды, отложений поверхностной грязи и птичьего помета. С момента начала реставрационных работ в сентябре 2021 года специалисты очистили более 900 квадратных метров мрамора. Работа выявила обширные следы краски, в том числе коричневую радужную оболочку левого глаза Марии, сине-зеленый цвет внутри ее мантии, красный снаружи ее мантии и богатый дамасский узор на одежде младенца Иисуса. Столь обширные фрагменты полихромной окраски впервые были обнаружены на скульптуре с внешней стороны стен собора. Предыдущие находки представляли собой лишь несколько мазков позолоты и светло-голубого цвета на других скульптурах.
«Впечатляющая находка разноцветных фигур на воротах Корнаккини Флорентийского собора напоминает нам, что Флоренция в конце XIV и начале XV века была очень красочным городом. В соборе также были расписные статуи с позолотой на крыльях ангелов и на одеждах. Праздник, который мы забыли и начинаем открывать заново», — сказал директор музея Дуомо Тимоти Вердон.
Advertisements | Advertising at The News And Times - advertising-newsandtimes.com | WE CONNECT!