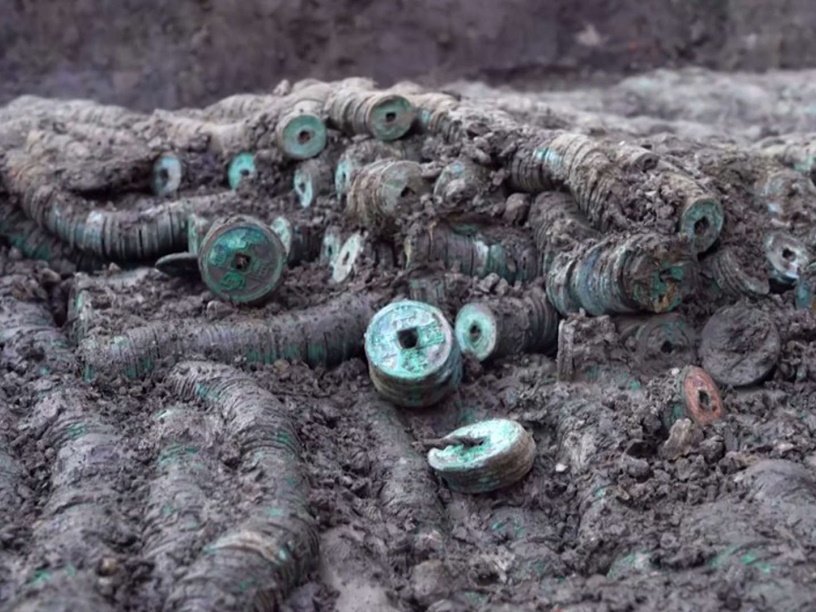 Массивный клад из полутора тонн бронзовых монет, датируемых династиями Тан (618–907) и Сун (960–1279), был обнаружен в деревне Шуандунь в провинции Цзянсу на востоке Китая. Монеты были связаны соломенными веревками, продетыми через центральные отверстия, и сложены аккуратными стопками.
Недалеко от клада были найдены семьдесят колодцев. Поскольку в этих местах в XII–XIII веках происходили сражения между армиями династии Сун и чжурчженьского государства Цзинь, исследователи подозревают, что спрятанные монеты могли иметь отношение к военному лагерю.
Большинство монет в кладе представляют собой мелкие бронзовые монеты династии Сун. Они служили обычным платежным средством тех времен, пока острая нехватка меди не вынудила династию Южная Сун (1127–1279) выпускать монеты более низкого качества и стоимости. Из-за нехватки бронзовых монет правительство было вынуждено в 1161 году вдвое сократить жалование военным. Нехватка металла привела к распространению в сунском Китае бумажных денег. В 1170 году государство стало требовать, чтобы половина всех налогов уплачивалась бумажными деньгами.
Advertisements | Advertising at The News And Times - advertising-newsandtimes.com | WE CONNECT!