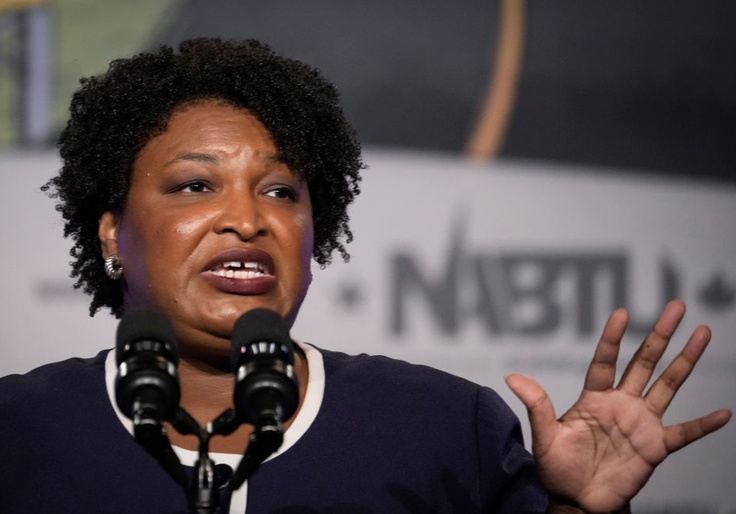 Stacey Abrams's New Georgia Project is collecting donations without a license in at least nine states, opening itself up to fines and criminal inquiries, a Washington Free Beacon investigation found.
State laws across the country prohibit charities that have not filed required financial disclosures with the IRS from soliciting donations. But the New Georgia Project, which missed the Nov. 15 deadline to file its Form 990, is still raising money through a nationwide campaign hosted by the online fundraising platform ActBlue. Representatives at the relevant agencies in Tennessee, Mississippi, and North Carolina, where the New Georgia Project's charity license has expired, told the Free Beacon that the group could face fines ranging from $25 dollars to $25,000 for violating their state's charity laws. Some of those fines could be issued for each donation the group accepts.
According to Paul Kamenar, an attorney with the National Legal and Policy Center, the group could soon face more trouble.
"It's clear that the New Georgia Project is in gross violation of many state laws by soliciting contributions from the public while their registration as a charity has lapsed," Kamenar told the Free Beacon, noting that his group "plans to file formal complaints with appropriate state enforcement agencies demanding an investigation and imposition of penalties."
Touted as the "poster child" of Abrams's efforts to boost Democrats in the state, the New Georgia Project raised $25 million in 2020 and ended the year with $18.5 million in assets, according to the last available public records. Less than two years later, in October 2022, the charity once helmed by Sen. Raphael Warnock (D., Ga.) dismissed half its leadership team, citing a lack of funds. The group's implosion comes just as Democrats have begun making inroads in Georgia, a feat often attributed to Abrams's efforts.
Contribution receipts reviewed by the Free Beacon show the New Georgia Project accepts donations from residents of some states where the group lacks an active charity solicitation license, including Colorado and Washington. The New Georgia Project's charity status has been labeled "EXPIRED-MAY NOT SOLICIT" on Colorado's online charity navigator since Nov. 15.
Unlicensed charitable solicitation in Colorado is considered charity fraud, according to state law cited by Annie Orloff, a spokeswoman for Colorado's secretary of state. Any person who commits charity fraud in Colorado could face criminal penalties, that law states. Orloff said her agency has reached out to the New Georgia Project about its charity status.
In North Dakota, New Georgia Project's charity renewal filing was due on Dec. 1, but the group maintains an active status in the state as of Monday. When reached for comment, North Dakota Secretary of State Al Jaeger told the Free Beacon he had referred the matter to the Consumer Protection Division of the state's Office of the Attorney General.
A spokeswoman for the Maine Department of Professional and Financial Regulation said the state could open an investigation if a complaint is filed against the group. New Georgia Project's charity license expired in Maine on Nov. 30, the same day it expired in Washington State. Washington's secretary of state did not respond to a request for comment.
In some states, such as Oklahoma and Maryland, the penalties the New Georgia Project faces for having an expired charity license are unclear. Oklahoma's secretary of state confirmed that New Georgia Project's registration in the state expired on Nov. 9, but would not elaborate on what action could be taken against the group.
New Georgia Project's registration in California expired on May 15, but the group's status with the state is still "current." California's Office of the Attorney General said New Georgia Project may still legally solicit donations in California because it is "within the IRS extension period," despite that extension period ending on Nov. 15.
The New Georgia Project still hasn't filed its 2021 Form 990, which was due to the IRS on Nov. 15. The group missed the deadline after the June firing of its top financial officer, who said he couldn't do his job without violating the law. The Form 990 disclosure would shed light on the group's finances, including how much it paid to top officials and contractors.
The New Georgia Project did not respond to a request for comment.
The post Stacey Abrams's Georgia Nonprofit Could Face Criminal Investigations for Unlicensed Fundraising appeared first on Washington Free Beacon.