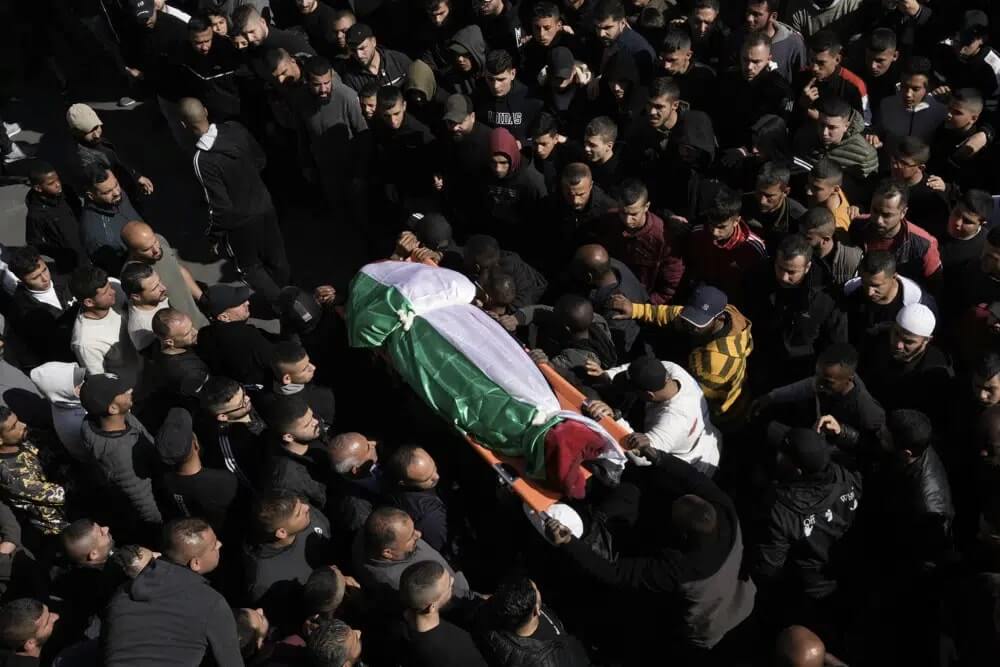 Dozens of Israeli armored military vehicles, bulldozers, drones as well as armed troops from the military, border police and Shin Bet, raided the West Bank city of Jenin Thursday morning. All to allegedly take down three Palestinian militants.
The damage was like nothing Jenin has seen in over two decades. Nine Palestinians, including an elderly woman, were killed by Israeli forces. Dozens of cars were flipped over and crushed, homes were heavily damaged, and patients had to run away from tear gas shot at the Jenin hospital.
The excessive show of brutality and disproportionate violence was deliberate. Following the most deadly year since 2005 for Palestinians, and massive protests across Israel against Benjamin Netanyahu's judicial overhaul, the assault on Jenin is meant to put the nation in a state of emergency and thus undermine the pro-democracy protests.
It is not just Bibi who stands to benefit from this. A spark of chaos and bloodshed and a display of uncompromising might and cruelty are politically most expedient to Israel's new national security minister and convicted terror-supporter, Itamar Ben-Gvir, as well as the finance minister and de facto prime minister of the West Bank, religious extremist Bezalel Smotrich.
"They want more violence, they want deterioration, they want an exacerbation of violence because politically it serves them," retired Israeli General Ephraim Sneh, who served as deputy defense minister under Ehud Olmert, was warning me only a week ago. "If it wasn't for May 2021 [when escalations erupted in Jerusalem, Gaza and Israel], Ben-Gvir wouldn't have 14 mandates in the Israeli Knesset today." The Israeli police commissioner Kobi Shabtai has shared a similar assessment of Ben-Gvir's proclivity for inciting violence for political gain, blaming him for sparking the 2021 escalation by establishing an office in the disputed Jerusalem neighborhood of Sheikh Jarrah.
It is extremely difficult to see any moral, political, or even military justification for the disproportionality of force exerted by the Israeli military in Jenin.
The IDF is claiming that the three wanted militants were plotting a "significant attack." But even assuming this to be true, excessive force is wholly unjustifiable, especially in the presence of less harmful and more effective alternatives. For example, Israel could have easily asked the Palestinian Authority (PA) through their tight security coordination apparatus to thwart the threat, arrest the three militants, or at least dissuade them from their violent intentions.
This type of security coordination has proved to be immensely successful. In November 2022, Israel's government approached the PA for help to retrieve the body of a Druze Israeli citizen that was kidnapped by militants in Jenin. The PA managed to return the body within a single day. A month before, Israel asked the PA to intercede with armed groups in Jenin and Nablus to de-escalate tensions. In turn, the PA persuaded the head of the Lion Den's militant group to turn himself in. The PA routinely arrests Palestinians wanted by Israel and puts them in its custody.
Most importantly, it's highly unclear that the security objectives attained from this operation outweigh the harm and damage resulting from the use of such extreme and brutal force. The PA has already announced that it is suspending its security coordination with Israel. Hamas has already threatened retaliation and there is talk of a general strike in the West Bank.
We are back to the brink of another war; and there is no evidence that such an operation would succeed in bringing about calm to Israelis and prevent the resurgence of these armed groups. Instead, Israel's operation has turned the three wanted militants into martyrs and heroes who defended their town against the Israeli raid.
Netanyahu's government chose to ignore these calculations in today's decision. They also ignore the most crucial fact that these armed groups in Jenin and Nablus resurged only because of the unprecedented level of despair, immiseration and futurelessness that Palestinian feel entrapped into in the occupied territories. With the two-state solution and peace process long dead, the besieged Palestinian economy in tatters, and the occupation's restrictions increasing dramatically, Palestinians — particularly the youth — are left with nothing to lose and nothing to hope for.
Instead of addressing these root causes of tensions and escalations, the Israeli government's continued use of excessive and disproportionate violence will only fuel more bitterness, hatred and rage among Palestinians. This will push more desperate young people into armed groups and cause more violence that Smotrich and Ben-Gvir can weaponize for their own political ends, entrenching the region in a vicious destructive cycle and bringing us closer to a third intifada.
The malevolent policies of Israel's far-right government are not only harmful to Israel internally. As General Sneh told me: "[Smotrich and Ben-Gvir] will isolate us in the moment we need international support in our struggle with Iran."
The Biden administration must unequivocally condemn the excessive and disproportionate use of violence against Palestinians and use whatever means are necessary to make sure Thursday's destructive raid on Jenin will not be repeated. The administration should also work on restoring hope to the Palestinians and alleviating Israel's suffocating restrictions in the Occupied Territories.
Otherwise, Biden's continued hands-off approach is a green light to Israel's extremist government to escalate the brutal treatment of Palestinians and destabilize the region, to the detriment of Palestinians and Israelis alike.
To contact the author, email opinion@forward.com
The post The assault on Jenin serves only Israel's far-right government appeared first on The Forward.