As Tony Kushner remembers it, Steven Spielberg's largely autobiographical film, The Fabelmans, had its genesis about 17 years ago.
"It was a night shoot on the island of Malta and we were blowing up a hotel room" for a scene in the film Munich, Kushner told me. "It was late at night and we were waiting for the explosives team to set up, and I asked him about his early years. We'd been spending a good deal of time together with each other before that while we were preparing the film."
That was when Spielberg told Kushner the story about the discovery he made on a family camping trip that changed his life — and is at the very center of the new film.
"I told him it was an amazing story and he has to make a movie about it." The thought had already occurred to Spielberg himself, but he wasn't ready.
"We joked about it for a long time," Kushner said.
Over the years since, their personal and professional relationship continued to grow. After Munich, they collaborated on Lincoln and then West Side Story.
In many ways, Kushner was the perfect partner for The Fabelmans. Kushner was nominated for Academy Awards for his scripts for both Munich and Lincoln. But he'd also won a Pulitzer, a Tony and an Emmy for Angels in America, and had mined his own upbringing for Caroline, or Change.
The following conversation between Curt Schleier and Tony Kushner has been edited for length and clarity.
How did you and Steven meet?
Tony Kushner: Right after Angels in America came out, I started getting calls from movie people just asking to take meetings. One of them was from Kathy Kennedy, who produced many of Steven's films. Kathy called and asked if I'd be interested in having breakfast with her.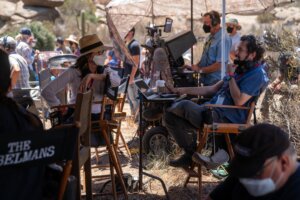 Tony Kushner observes a scene in Steven Spielberg's autobiographical film The Fabelmans. Courtesy of NBCUniversal
We met at a hotel in New York and talked about what each of us were up to. I asked about Steven and she told me about Munich and Lincoln, which is based on a book by Doris Kearns Goodwin called Team of Rivals. I'd just published a book, Wrestling with Zion. I said maybe it will help you and Steven in terms of the politics of the situation. Kathy said she'd love to read the book so I sent her a copy and through her, a copy to Steven.
Not long afterwards, I got a note from Steven saying he'd just read the book and was really intrigued by it. We got on the phone. He sent me a copy of the existing script for what would eventually become Munich. I read it and he asked if I'd take a whack at doing my own version.
You obviously have developed a great rapport with Steven since then. Did that take time?
Not really. We liked each other almost immediately. We had a certain amount in common politically, and a lot of overlapping interests. He's really fond of my husband, Mark [Harris] and I'm really fond of Kate [Capshaw] and his entire family. We became friends. We don't go on vacation together, but over 19 years we've built a serious degree of trust, which I think was kind of a requirement for this film.
Otherwise I don't think we would have been able to do it. He was letting me in on a very complicated project: We were turning the lives of his parents and siblings, and some very painful experiences into fiction. That requires a lot of interpretation, lots of discussions about various things. I think it was essential that we were really already very good at fighting and quarreling.
Did you argue a great deal?
We did argue. Probably less than on West Side Story and Lincoln. I also said to myself, it's his story. I can't be as violent in my opinions as I have been in our other projects. But Steven is really a great guy and very respectful. He listens to me and my 800 opinions. The bottom line of our relationship is that not one of us wins until we arrive at a place where we both understand what the other is after. Very often we discover a third way neither of us started out proposing.
I read a review that suggested that you were likely a key to keeping the production "from becoming too self-indulgent." Also, your close ties allowed him to unpack even more baggage to a friend.
I think Steven would be the first to say that in order to make the movie it was useful to have an objective eye the whole time we worked. When we started, we kept writing only because we we're enjoying ourselves. This was a nice way to spend time with each other. But if this was going to turn into an actual film, it would have to work for people who didn't know him and didn't know his movies. So I think it was helpful to have someone deeply caught up in it. As I was working with him, I wrote an 81-page novella based on his memory. We refer to it as the ganse megillah (entire story) outline that Steven went back and forth to when thinking about the characters and the situations.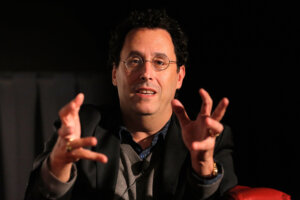 Tony Kushner, seen here in 2012, mined his own autobiography for Caroline, or Change. Photo by Getty Images
After all this time, what do you think prompted Steven to give the go-ahead to the project?
It really turned the corner when his mother [Leah] died [in 2017]. By the time we were working on West Side Story, his father was 103 and beginning to go into serious decline. That's when we started really talking about possibly making the movie. We were pulled away by the demands of West Side Story, but committed to coming back to it when we were done.
Did the fact that you were both Jewish play a role in your relationship?
Steve and I came back [to New York] from Europe where we'd almost finished filming Munich. We still had one more scene to film. But it was September and I remember we went to High Holy Day services together. We've done that a few times. We enjoy being in shul together. Being Jewish is important to him and it's certainly important to me. We talk a lot about what it means to be Jewish and Jewish history. It's a very, very significant part of our relationship.
The Fabelmans deals with the antisemitism Steven faced. Did you have similar experiences?
Like Steven, my life was never in danger. I wasn't in a pogrom. But similar to Steven, there was a lot of bullying. I've mentioned this before, but when my mother was dying in a hospital in Lake Charles, Louisiana, this very nice nurse who took great care of her shyly came over to my sister and I and said, "Are you Jewish? Can I see your horns?" She actually believed we had horns.
Any final thoughts?
I just very happy we met. I think he's a genius. I feel unbelievably fortunate to work with him. After four films, it seems we have some kind of chemistry. It feels like this is bashert.
The post 'We enjoy being in shul together': Tony Kushner talks about his friendship with Steven Spielberg appeared first on The Forward.