This article is part of our morning briefing. Click here to get it delivered to your inbox each weekday.
Our senior political reporter, Jacob Kornbluh, shares what's in his notebook…
Former President Donald Trump criticized Jewish leaders Friday, saying they "lack loyalty" and "should be ashamed of themselves," for demanding that he condemn the antisemitism of Kanye West and Nick Fuentes after dining with them. "How quickly Jewish leaders forgot that I was the best, by far, president for Israel."
Len Khodorkovsky, a deputy assistant secretary of state in the Trump administration, told us that allies and supporters who have distanced themselves from the former president should be "giving him the benefit of the doubt and not throwing him under the bus when things get hot." 
And Rep. Marjorie Taylor Greene told the New York Young Republican Club dinner Saturday night that Trump should be the party's nominee in 2024. "I don't care whose feelings get hurt, I don't care what he tweets," said Greene, a Georgia Republican, who was removed from her committee assignments last year due to her embrace of QAnon conspiracy theories and antisemitic tropes. Greene also said that if she and Steve Bannon, a former Trump adviser, had organized the Jan. 6 insurrection of the Capitol, "we would have won." 
Attendees at the dinner included leaders of the Freedom Party of Austria, a far-right party founded by an SS officer after the Holocaust; Jack Posobiec, a far-right activist who peddled the Pizzagate conspiracy against Hillary Clinton; and George Santos, a Long Island Republican who is Jewish and was elected to Congress last month.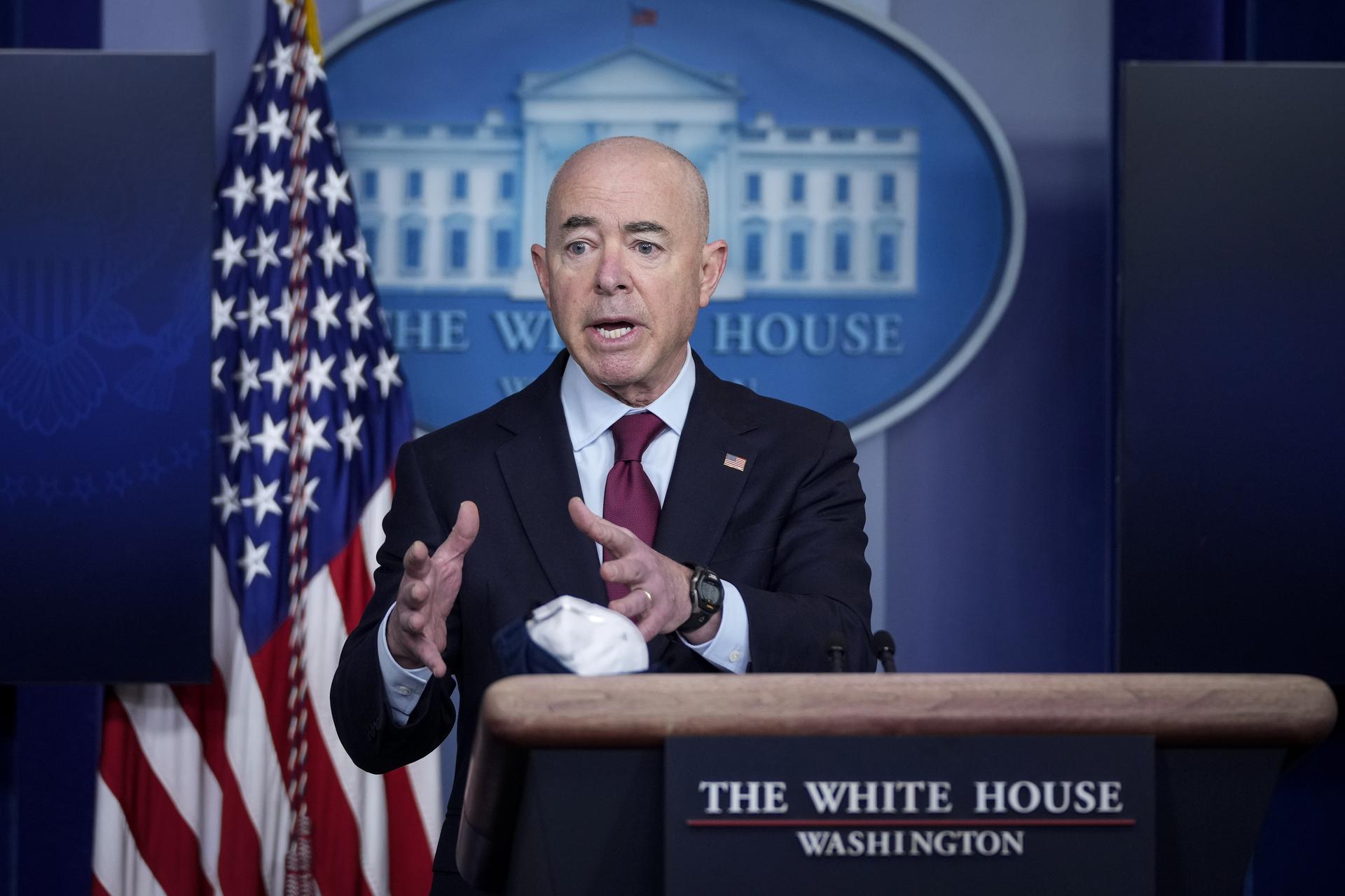 The Secretary of Homeland Security, Alejandro Mayorkas, is working to combat antisemitism. (Getty)
Homeland Security Secretary Alejandro Mayorkas is scheduled to meet with Orthodox rabbis and school administrators this morning at Manhattan's Lincoln Square Synagogue to talk about security. Senate Majority Leader Chuck Schumer, New York Gov. Kathy Hochul and New York City Mayor Eric Adams are also slated to speak at the event.
Former President Bill Clinton will receive an honorary doctorate from the University of Haifa at an event this evening in New York. 
(Photo illustration by Matthew Litman)
WHAT ELSE YOU NEED TO KNOW TODAY
A news report about the killing of Jana Zakaran, a 16-year-old Palestinian.

  A Palestinian teenager was fatally shot during a battle between the Israel Defense Forces and Palestinian gunmen late Sunday in the West Bank city of Jenin. The IDF is investigating how the 16-year-old girl was killed while standing on a rooftop observing the troops, including whether she had been next to gunmen or in the line of fire. (Times of Israel, Haaretz)
  A group of Jewish boys was chased by attackers firing a taser gun and shouting "Run Jews! Get out of here!" in the Flatbush neighborhood of Brooklyn, according to a neighborhood safety group called Shmira, Hebrew for guarding. (Jerusalem Post)

  Russian is the first language for most Jews in Ukraine. Now an effort is underway to translate Jewish texts — including Psalms, a prayer book and even a Torah — into Ukrainian for the first time. (JTA)

  The substance-abusing son of a prominent Chabad rabbi in Massachusetts spent time in a psychiatric hospital and multiple rehab facilities. Now, the rabbi and his wife are launching Jewish Support Anonymous, which is modeled on the 12-step program Al-Anon and will meet in a Chabad facility. (Jewish Journal)

  Jewish and Muslim soccer fans gathered to watch the World Cup quarterfinals on Saturday night at a Tel Aviv restaurant. For those two hours, watching men in yarmulkes and women in hijabs celebrate Morocco's 1-0 victory over Portugal, journalist Ido Rakovsky said he was witnessing "the new Middle East." (Haaretz)

  A Catholic baker in Warsaw is working to preserve Jewish food in a place where it was nearly lost. "Maybe common, everyday life things, like food that we had in common, will draw us together," said Justyna Kosmala, adding: "Jewish history is part of our history." (New York Times)
Shiva call ➤  Frederick Terna, a Holocaust survivor and a painter whose work was displayed in both the Smithsonian and Yad Vashem, died at 99.
What else we're reading ➤  Watchdog group names Kanye West "Antisemite of the Year" … Buried alive by a Russian strike, a Ukrainian police officer is in an Israeli hospital, fighting to walk again… How a Pennsylvania native who grew up Catholic became an expert in Judaica.
Joseph Pulitzer, a publisher and politician, helped establish the Columbia School of Journalism. (Wikimedia/iStock)
On this day in history (1878): Joseph Pulitzer debuted the St. Louis Post-Dispatch after merging two local dailies. Pulitzer, who was born to a Jewish family in Budapest, is best known for the Pulitzer Prizes, the highest honor in journalism. The Post-Dispatch was Pulitzer's first effort at running a media company; he would later take ownership of the New York World, turning it into one the largest newspapers in the country.
Speaking of the Pulitzer Prizes: There's still time to sign up for our virtual fundraiser where our Jodi Rudoren will interview Maggie Haberman, the Pulitzer Prize-winning New York Times reporter and biographer of former President Donald Trump. Register now ➤
On the Hebrew calendar, it's the 18th of Kislev, the yahrtzeit of Rabbi Abraham Maimuni, the only son of Maimonides, who died in 1237.
In case you missed it: My colleague Laura E. Adkins and I interviewed Julia Haart and her son, Shlomo, the stars of My Unorthodox Life on Netflix. They shared behind-the-scenes stories about the new season, how they respond to critics and what's happening in their dating lives.
–––
Thanks to PJ Grisar, Jacob Kornbluh, Rukhl Schaechter and Talya Zax for contributing to today's newsletter. You can reach the "Forwarding" team at editorial@forward.com. 

The post Trump calls American Jews disloyal + Kanye West named 'Antisemite of the Year' appeared first on The Forward.
Advertisements | Advertising at The News And Times - advertising-newsandtimes.com | WE CONNECT!