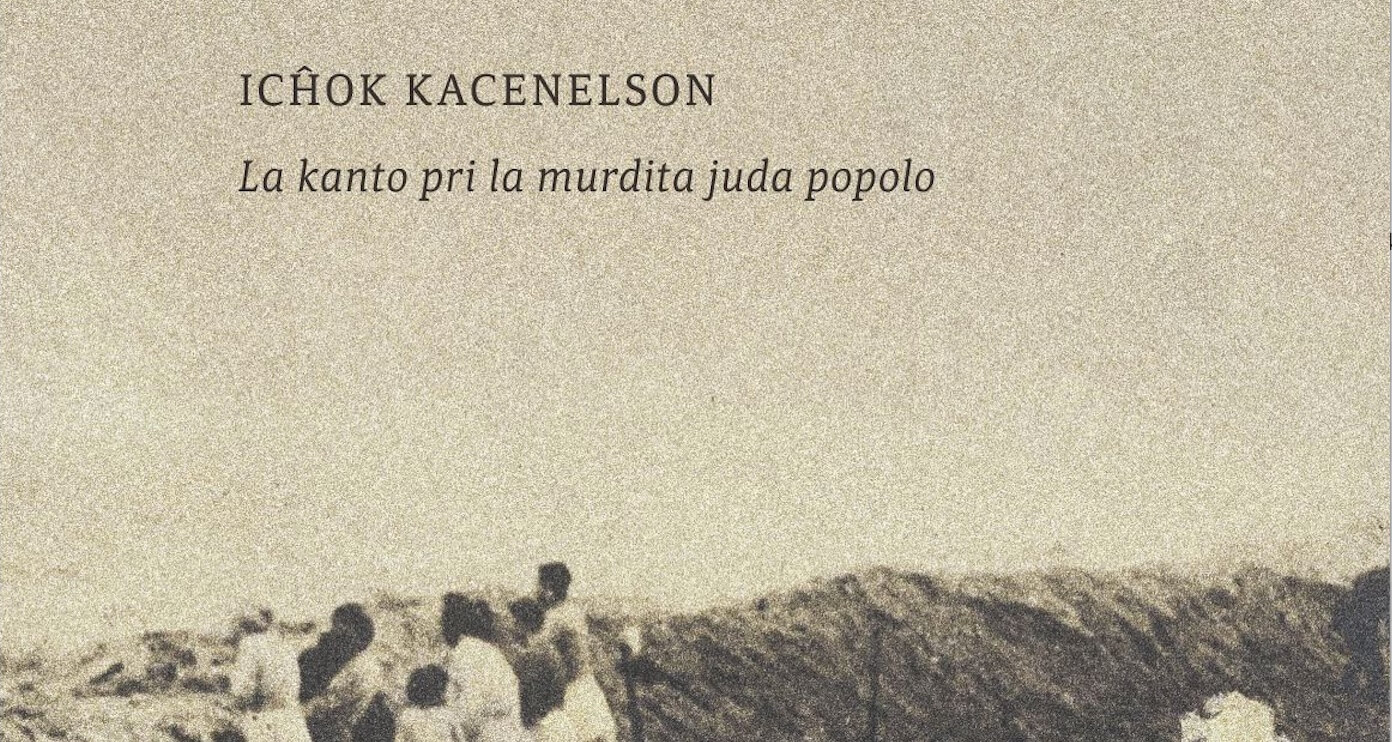 איך בין לעצטנס געווען אויף דער פּרעזענטאַציע פֿון אַ נײַעם ראָמאַן אויף עספּעראַנטאָ, געווידמעט דעם סאָוועטישן עספּעראַנטיסט שמעון (סעמיאָן) פּאָדקאַמינער. די אונטערנעמונג איז פֿאָרגעקומען אין אַ ביבליאָטעק, וווּ יעדע וואָך פֿאַרזאַמלט זיך אַן עספּעראַנטאָ־קלוב. דערבײַ האָט דער מחבר, משה (מיכאַיִל) בראָנשטיין, מיר געשאָנקען צוויי אינטערעסאַנטע ביכער: זײַנע פּאָעטישע איבערזעצונגען פֿון מרדכי געבירטיג און יצחק קאַצענעלסאָן אויף עספּעראַנטאָ.
דאָס בוך "בלײַב געזונט מיר, קראָקע", אַ זאַמלונג פֿון מרדכי געבירטיגס ווערק מיט בראָנשטיינס פּאַראַלעלע איבערזעצונגען אויף עספּעראַנטאָ, איז אַרויס אין 2019. דאָס בוך איבערזעצונגען פֿון יצחק קאַצענעלסאָנס ייִדישע לידער, באַטיטלט La kanto pri la murdita juda popolo ("דאָס ליד וועגן דעם דערמאָרדעטן ייִדיש פֿאָלק"), האָט בראָנשטיין אַרויסגעגעבן אין 2021. ביידע אויסגאַבעס זענען אויסגעצייכנטע, באַגלייט מיט פּרעכטיקע אילוסטראַציעס. אַן אַנאַליז פֿון בראָנשטיינס אייגנאַרטיקן איבערזעצערישן סטיל פֿאָדערט אָבער אַ באַזונדערן אַרטיקל. איצט וועל איך דערציילן נאָר וועגן דעם מחבר און זײַן נײַעם ראָמאַן.
בראָנשטיין איז געבוירן געוואָרן אין 1949 אין פּראָסקוראָוו (הײַנט כמעלניצקי, אוקראַיִנע). אין דער משפּחה האָט מען גערעדט אויף ייִדיש. עספּעראַנטאָ האָט ער זיך אויסגעלערנט נאָך אין זײַנע מיטלשול־יאָרן. אין 1962 האָט ער שוין גוט געקענט די שפּראַך און באַלד געוואָרן אַן אַקטיווער עספּעראַנטיסט, אַן אָנגעזעענע פֿיגור אין דער סאָוועטישער יוגנטלעכער עספּעראַנטאָ־באַוועגונג SEJM.
אַגבֿ, אין פּראָסקוראָוו, וואָס איז אַמאָל געווען אַ באַקאַנט ייִדיש שטעטל, בין איך געווען מיט בערך 20 יאָר צוריק, און געשמועסט דאָרט מיט עטלעכע ייִדן אויף ייִדיש. דעמאָלט האָט מען שוין געהאַט געביטן דעם נאָמען פֿון דער שטאָט אויף כמעלניצקי לכּבֿוד דעם קאָזאַקישן אויפֿשטענדלער באָגדאַן כמעלניצקי (פֿונעם ייִדישן קוקווינקל, גאָר קאָנטראָווערסאַל צוליב די שרעקלעכע פּאָגראָמען, וואָס ער האָט געפֿירט קעגן ייִדן אינעם 17טן יאָרהונדערט). צווישן 2007 און 2009 האָט דער פֿאָרשער דובֿ־בער קערלער מיטן דיכטער משה לעמסטער אינטערוויויִרט עטלעכע ייִדן אין פּראָסקוראָוו און אַרויפֿגעשטעלט די ווידעאָ־רעקאָרדירונגען אויף דער אינטערנעץ.
ווען בראָנשטיין איז געווען 18 יאָר אַלט, איז ער אַוועקגעפֿאָרן פֿון אוקראַיִנע קיין רוסלאַנד און זינט דעמאָלט קיינמאָל נישט געוווינט, ווי ער האָט מיר דערציילט, אין אַ ייִדיש־שפּראַכיקער סבֿיבֿה. ער פֿאַרשטייט אָבער גוט די שפּראַך און רעדט אויף אַ היימישן אוקראַיִנישן דיאַלעקט. אין 1972 האָט ער באַקומען אַ העכערע בילדונג אין עלעקטרישע אינזשענירײַ און זשורנאַליסטיק. ווי אַ פּראָפֿעסיאָנעלער זשורנאַליסט האָט ער ווייניק געאַרבעט, נאָר זײַנע היסטאָרישע ביכער זענען באַגרינדעט אויף ערנסטע זשורנאַליסטישע פֿאָרשונגען.
בראָנשטיינס ערשט בוך, געווידמעט דער געשיכטע פֿון SEJM און אָנגעשריבן אויף עספּעראַנטאָ, איז אַרויס אין 1992. בסך־הכּל, האָט ער פֿאַרעפֿנטלעכט אַרום 30 ביכער, על־פּי רובֿ אויף דעם דאָזיקן לשון: זאַמלונגען לידער, ראָמאַנען, איבערזעצונגען פֿון דיכטונג און פּראָזע. זײַענדיק אויך אַ מוזיקער, האָט ער אַרויסגעגעבן פֿינף אַלבאָמען מיט זײַנע אייגענע עספּעראַנטאָ־לידער, וווּ ער זינגט און שפּילט אויף אַ גיטאַר.
דער נײַער ראָמאַן הייסט Simeono. לויטן עספּעראַנטיסטישן מינהג, גיט מען צו דעם סובסטאַנטיוו־סיפֿוקס "אָ" צו באַקאַנטע פּערזענלעכע נעמען; דערפֿאַר האָבן די סאָוועטישע עספּעראַנטיסטן גערופֿן שמעון פּאָדקאַמינער (1901–1982) סימעאָנאָ. ער איז געווען איינער פֿון די סאַמע פּראָמינענטע טוער אין זייער סבֿיבֿה. בראָנשטיין האַלט, אַז צוליב זײַן אָרגאַניזאַטאָרישן טאַלאַנט האָט פּאָדקאַמינער, אין אַ גרויסער מאָס, אָפּגעראַטעוועט די גאַנצע עספּעראַנטאָ־באַוועגונג אינעם ראַטן־פֿאַרבאַנד, בפֿרט אין לענינגראַד. הגם אַ סך באַקאַנטע עספּעראַנטיסטן זענען געוואָרן קרבנות פֿון סטאַלינס רעזשים, וואָלט די צאָל אומגעקומענע אָן זײַן טעטיקייט געווען אַ סך העכער.
בעתן אַרבעטן איבערן ראָמאַן, האָט בראָנשטיין אַ סך געגריבלט אין אַרכיוון און אינטערוויויִרט מענטשן אין עטלעכע לענדער. ער האָט אויך צוגעגעבן אייגענע אויסטראַכטענישן, כּדי צו פֿאַרוואַנדלען קאָנקרעטע היסטאָרישע פֿאַקטן אין אַ בעלעטריסטיש ווערק, נאָר בעצם איז זײַן בוך אַ היסטאָרישע מאָנאָגראַפֿיע, וווּ עס ווערן אָפֿט ציטירט אוניקאַלע היסטאָרישע דאָקומענטן; דאָס בוך איז דערצו באַגלייט מיט אַ סך אינטערעסאַנטע אַלטע פֿאָטאָגראַפֿיעס. אין צוויי פֿון זײַנע פֿריִערדיקע ראָמאַנען דערציילט בראָנשטיין אויך וועגן דער סאָוועטישער עספּעראַנטאָ־באַוועגונג.
וועראַ פּאָדקאַמינער, דאָס אייניקל פֿון בראָנשטיינס העלד, אַליין אַן עספּעראַנטיסטקע, וועלכע איז געווען אַ חשובֿער גאַסט אויף דער פּרעזענטאַציע, האָט מיר געזאָגט, אַז זי ווייסט גאָרנישט וועגן איר זיידנס מעגלעכן שײכות צו ייִדיש. בראָנשטיין דערמאָנט ייִדן אַ סך מאָל אין זײַן בוך, אָנהייבנדיק פֿונעם סאַמע אַרײַנפֿיר־עפּיגראַף, נאָר נישט ייִדיש ווי אַ שפּראַך. צי פּאָדקאַמינער, וועלכער איז אויפֿגעוואַקסן אין טולע, ווײַט פֿונעם תּחום־המושבֿ, האָט בכלל געקענט ייִדיש, ווייסט ער אויך נישט.
פֿון דעסט וועגן, קאָן דער נײַער ראָמאַן זײַן באַלערנדיק פֿאַר ייִדיש־פֿאָרשער. די טעטיקייט פֿון שמעון פּאָדקאַמינער האָט בײַ מיר אַרויסגערופֿן אַ פֿעסטע אַסאָציאַציע מיט אַהרן ווערגעליסן. ביידע זענען געווען ענערגישע אָרגאַניזאַטאָרן, וואָס האָבן אויסגענוצט זייערע נאָענטע פֿאַרבינדונגען מיט דער מלוכה, כּדי צו שאַפֿן און אונטערהאַלטן אַן ענטוזיאַסטישן קרײַז אַרום אַ שפּראַך, צו וועלכער די סאָוועטישע רעגירונג האָט זיך באַצויגן מיט אַ היפּשן חשד. עספּעראַנטאָ און ייִדיש זענען דאָך וועלט־לשונות, אַסאָציִיִרט סײַ מיטן געוועזענעם ראַטן־פֿאַרבאַנד, סײַ מיט מערבֿדיקע לענדער.
ווערגעליס און פּאָדקאַמינער זענען געווען געטרײַע קאָמוניסטן. אין אַ גרויסער מאָס, האָט זיך זיי אײַנגעגעבן אויפֿצולעבן די שפּראַך־טעטיקייט נאָך דער אַכזריותדיקער סטאַלינישער תּקופֿה אַ דאַנק זייערע פּערזענלעכע אידעאָלאָגישע קאָנסטרוקציעס. מיט אַן ערלעכער אמונה האָבן זיי געדרשנט, אַז ייִדיש און עספּעראַנטאָ זענען נאַטירלעכע קאָמוניסטישע לשונות, אויפֿן סמך פֿון זייער שטאַרקער פּאָפּולאַריטעט אין לינקע קרײַזן.
איין וויכטיקער חילוק איז, אַז ווערגעליס איז געווען אַ שרײַבער און אַ דיכטער, און פּאָדקאַמינער – אַן אינזשעניר און אַ וויסנשאַפֿטלער. דאָס האָט זיך, מעגלעך, אָפּגערופֿן אויף זייערע פּריאָריטעטן: ווערגעליס האָט געשאַפֿן אַרום זיך אַ שרײַבערישע סבֿיבֿה, און פּאָדקאַמינער – גיכער אַ סאָציאַל־אַקטיוויסטישע.
The post Yiddish translator presents his new Esperanto novel appeared first on The Forward.
Advertisements | Advertising at The News And Times - advertising-newsandtimes.com | WE CONNECT!